To divide or not to divide: revisiting liver regeneration
Received: 6 June 2013
Accepted: 17 June 2013
Published: 20 June 2013
Abstract
The liver has a remarkable capacity to regenerate. Even with surgical removal (partial hepatectomy) of 70% of liver mass, the remnant tissue grows to recover the original mass and functions. Liver regeneration after partial hepatectomy has been studied extensively since the 19th century, establishing the long-standing model that hepatocytes, which account for most of the liver weight, proliferate to recover the original mass of the liver. The basis of this model is the fact that almost all hepatocytes undergo S phase, as shown by the incorporation of radioactive nucleotides during liver regeneration. However, DNA replication does not necessarily indicate the execution of cell division, and a possible change in hepatocyte size is not considered in the model. In addition, as 15–30% of hepatocytes in adult liver are binuclear, the difference in nuclear number may affect the mode of cell division during regeneration. Thus, the traditional model seems to be oversimplified. Recently, we developed new techniques to investigate the process of liver regeneration, and revealed interesting features of hepatocytes. In this review, we first provide a historical overview of how the widely accepted model of liver regeneration was established and then discuss some overlooked observations together with our recent findings. Finally, we describe the revised model and perspectives on liver regeneration research.
Keywords
AktCdksCellular hypertrophyCyclinsE2F familyHepatocyteLiver regenerationmTORPartial hepatectomyPolyploidy
Introduction
The liver has an extraordinary capacity to regenerate from various types of injuries [
1
,
2
]. The liver consists of various cell types, including hepatocytes, biliary epithelial cells, sinusoidal endothelial cells, stellate cells, and Kupffer cells; however, hepatocytes, which carry out most of the metabolic and synthetic functions of the liver, account for about 80% of liver weight and about 70% of all liver cells [
3
]. In severely damaged liver with impaired hepatocyte proliferation (in this review, the term "proliferation" means an increase in cell number due to cell division), facultative liver stem/progenitor cells, which have the potential to differentiate into both hepatocytes and biliary epithelial cells, proliferate and are assumed to contribute to regeneration [
2
,
4
,
5
]. In contrast, regeneration after surgical resection of a portion of the liver (partial hepatectomy, PHx) does not require such stem/progenitor cells; the remnant tissue undergoes hyperplasia to recover the original liver mass within about two weeks in rodents (Figure
1
A and
1
B) [
6
–
9
]. In fact, this process is not a true "regeneration" like that observed in limb or heart regeneration in newts [
10
]. The liver does not recover the original lobular structure; rather, the remnant tissue simply increases in size (Figure
1
A). Although the term, "compensatory hyperplasia" more accurately describes this phenomenon, we use "liver regeneration" in this review, as it has been used widely. The multi-lobular structure of rodent liver allows the surgical resection of a lobe of choice to achieve different degrees of liver mass loss by PHx (Figure
1
A) [
1
]. As the resection of lobes does not induce damage to the remaining liver tissue, PHx has long been considered an excellent experimental model for tissue regeneration.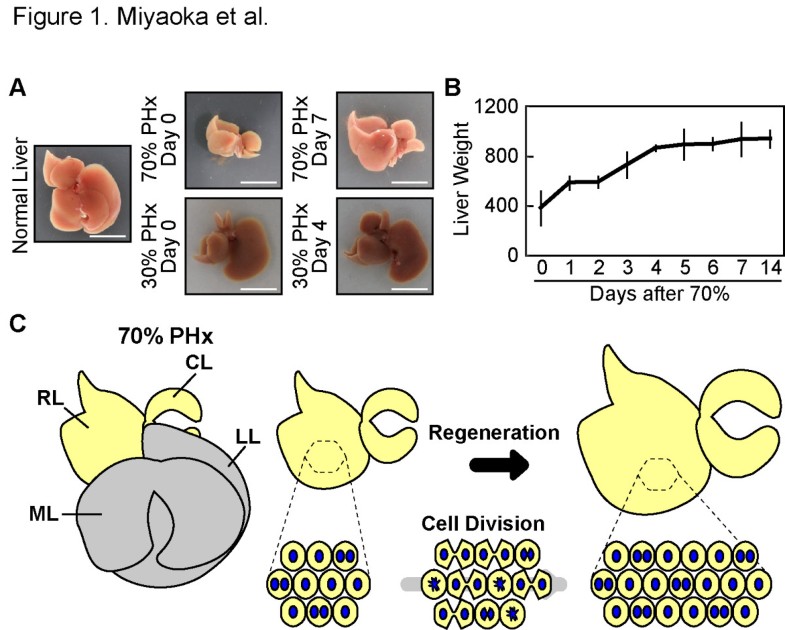 The mention of liver regeneration by Prometheus in Greek mythology indicates that ancient people had noticed the regenerative capacity of the liver. Additionally, descriptions of liver regeneration can be traced back to the 19th century when liver mass restoration with spontaneous healing of the scar was recognized after removal of a small portion of the liver [11]. In the early 20th century, it became possible to remove liver lobes by ligating blood vessels to reduce damage to the remnant liver tissue after surgery. In 1931, Higgins and Anderson carefully formulated the currently used procedure for PHx [12]. Notably, they used the term "liver restoration" instead of "liver regeneration" to distinguish clearly between compensatory hyperplasia and true tissue regeneration [12]. Since then, liver regeneration after PHx in rodents has been studied extensively for more than 80 years. Until the 1950s, liver regeneration was analyzed at mainly the tissue or cellular level by microscopic observations [13–15]. In the 1960s, the advent of electron microscopy enabled the analysis of hepatocyte ultrastructure in liver regeneration [16–19]. Almost at the same time, the epoch-making research tool of radioactive isotopes became available for biological studies. This technology was used to show that almost all hepatocytes incorporate radioactive nucleotides during liver regeneration after 70% PHx [20–25]. This landmark observation led to the establishment of the widely accepted concept that all remnant hepatocytes actively divide to recover the original cell number and liver mass (Figure 1C). This long-standing model postulated that all hepatocytes undergo roughly one or two rounds of cell division after 70% PHx [8, 26, 27].
Since the establishment of gene targeting technology in mice in 1989 [28–30], much effort has focused on identifying the genes required for liver regeneration. Many genes have been reported to be involved in liver regeneration after PHx [e.g., β-catenin, methionine adenosyltransferase 1A (MAT1A), oncostatin M (OSM), nuclear factor (erythroid-derived 2)-like 2 (Nrf2) and c-Met] [31–35]. Most of these studies focused on the proliferation or survival of hepatocytes in accordance with the long-standing model. Although an elegant and simple model, accumulating evidence—including our recent findings—suggest that the traditional model of liver regeneration requires revision. We discuss these observations and the proposed revised model in the following sections.
Conclusions
Although liver regeneration has been studied extensively, many important fundamental mechanisms remain undefined such as the mechanisms of cellular hypertrophy, cell division, nuclear division, ploidy changes and organ size control. Liver regeneration after PHx provides an excellent experimental system to tackle such basic biological questions. Understanding the mechanisms underlying liver regeneration is clinically important because hepatectomy is a practical treatment for liver tumors, and liver transplantation is an important therapeutic option in patients with severe liver diseases. Understanding the mechanism of liver regeneration will lead to the development of promising therapeutic strategies.
Declarations
Acknowledgements
We thank Dr. T. Itoh for his critical reading of this manuscript. YM is a recipient of a JSPS Postdoctoral Fellowship for Research Abroad and an Uehara Memorial Foundation Research Fellowship. This work was supported in part by research grants to AM from the Ministry of Education, Culture, Sports, Science and Technology of Japan, Ministry of Health, Labour and Welfare of Japan, and the CREST program from Japan Science and Technology Agency.
Authors' Affiliations
(1)
Laboratory of Cell Growth and Differentiation, Institute of Molecular and Cellular Biosciences, The University of Tokyo, Yayoi, Bunkyo-ku, Tokyo, Japan
(2)
Gladstone Institute of Cardiovascular Disease, University of California at San Francisco, San Francisco, USA
Copyright
© Miyaoka and Miyajima; licensee BioMed Central Ltd. 2013
This article is published under license to BioMed Central Ltd. This is an Open Access article distributed under the terms of the Creative Commons Attribution License (http://creativecommons.org/licenses/by/2.0), which permits unrestricted use, distribution, and reproduction in any medium, provided the original work is properly cited.