Regulation of CDK4
Received: 02 November 2006
Accepted: 08 November 2006
Published: 08 November 2006
Abstract
Cyclin-dependent kinase (CDK)4 is a master integrator that couples mitogenic and antimitogenic extracellular signals with the cell cycle. It is also crucial for many oncogenic transformation processes. In this overview, we address various molecular features of CDK4 activation that are critical but remain poorly known or debated, including the regulation of its association with D-type cyclins, its subcellular location, its activating Thr172-phosphorylation and the roles of Cip/Kip CDK "inhibitors" in these processes. We have recently identified the T-loop phosphorylation of CDK4, but not of CDK6, as a determining target for cell cycle control by extracellular factors, indicating that CDK4-activating kinase(s) might have to be reconsidered.
Keywords
Nuclear ImportT98G CellCDK4 ActivityMaster IntegratorMitogenic Stimulation
Background
At least during embryonic development in mice, CDK4 and its cousin CDK6, as well as their common regulatory partners the three D-type cyclins, are not absolutely required for cell cycle progression [1, 2]. E-type cyclins and CDK2 are similarly dispensable for embryo cell proliferation [3–6]. However, loss of CDK4 and CDK2 together (but not combined loss of CDK6 and CDK2 [1]) results in suppressed pRb phosphorylation at midgestation, more severe size reduction in the different organs, embryonic lethality due to heart failure and severe impairment of embryo cell proliferation in culture [7]. Previously, silencing of CDK2 was found to block proliferation in triple cyclin D knockout embryo fibroblasts but not in their wild-type counterparts [2]. This demonstrates the limits of the once unexpected plasticity of cell cycle regulation in mammalian embryo development and of the possible compensation of functions operated by both kinds of G1 phase cyclin-CDK complexes.
That does not mean that cell cycle progression in adult differentiated tissues could normally occur without CDK4 and/or CDK6. For instance CDK4 is dispensable for prenatal development of the pituitary but indispensable for postnatal proliferation of somato/lactotrophs [8]. Similarly, cyclins D2 and D1 are essential for postnatal but not prenatal pancreatic beta-cell growth [9]. Another good illustration is the appearance of the cell cycle requirement for cyclin D3 associated with the maturation of T lymphocyte [10] or late stages of neutrophil development [11]. Indeed, first cell divisions in the mammalian embryo depend on maternal transcripts and proteins, and then in most differentiating lineages cell cycle might proceed without most of the restrictions that control adult cell proliferation [12]. Many embryo cell cycles have a short G1 phase and do not pause in a G0 stage, and thus all the cell circuitry involved in the signalling of cell cycle re-entry from G0 might be partly dispensable until relatively late developmental stages. CDK1 can be activated by cyclin E and thus can compensate CDK2 loss in mice development [13], leading to the perhaps oversimplified vision of the embryonic cell cycle as a basic module resembling the yeast cell cycle that depends on only one CDK. During differentiation, different combinations of the six possible cyclin D1/2/3-CDK4/6 complexes may become adjunct to (plugged in) this core cell cycle module to couple its execution to the various intracellular cascades that transduce signals needed in the whole organism homeostasis.
During later stages of development and in adults, D-type cyclins CDK4/6 complexes thus appear to play essential, yet facilitative, roles as master integrators of the various mitogenic and antimitogenic signals conveyed by the extracellular environment. They are also regulated in response to intracellular mechanisms that sense the metabolic state of the cell, including its energetic and biosynthetic status, and respond to various stresses. According to their tissue-specific, but greatly overlapping, expression patterns, individual D-type cyclins have been shown to be required for proliferation and development of specific tissues (as reviewed in [14]), such as mammary gland and retina for cyclin D1, gonads, B-lymphocyte and pancreatic β-cells for cyclin D2, and maturation of T-lymphocytes for cyclin D3. Like cyclin D1-null mice, CDK4-null mice are smaller, but additionally display abnormalities seen in cyclin D2-deficient mice, including impaired development of pancreatic β-cells [15], whereas CDK6-null mice suffer from haematopoietic defects (reviewed in [14]). It remains somewhat unclear if these specific phenotypes depend only on the particular tissue-specific expression profiles of the various D-type cyclins and their association with CDK4 or CDK6, or might also be related to some non-overlapping functions of their different complexes. At least partial compensation between different D-type cyclins has been well demonstrated [16–18], but it has not been systematically explored in adult tissues. It has recently appeared that CDK6 cannot compensate CDK4 loss in a CDK2-null background [19], but CDK6 might have specific functions in blocking some differentiation processes [20]. Differentiation is often associated with dramatic D-type cyclins' expression switches. In several adult mammalian tissues, cyclin D1 localizes to proliferative layers, whereas cyclin D3 is often highly expressed in the adjacent compartment where differentiation takes place [21–24]. Cyclin D3 replaces cyclin D1 during myogenesis [25, 26], adipogenesis [27], or at the pre-TCR developmental stage during T lymphocyte maturation [10].
The six D-type cyclin-CDK4/6 complexes phosphorylate and inactivate the cell cycle/tumor suppressor proteins of the pRb family (p105 Rb , p107, p130 Rb 2) [28–33]. This function is indeed essential since the CDK4/6 inhibitor p16 or neutralization of cyclin D1 do not prevent cell cycle progression in pRb-defective cells [34–36]. However, there are also some indications that CDK4/6 can phosphorylate other substrates. Recently, CDK4 (and CDK2) was demonstrated to phosphorylate and inactivate Smad3 [37]. Direct phosphorylations by CDK4 of the nucleolar transcription factor upstream binding factor (UBF) [38], the replication licensing factor Cdt1 [39], the bone-specific transcription factor Runx2 [40], and possibly TSC2 [41] have been reported. Differential phosphorylation of unidentified substrates by cyclin D1-CDK4 or cyclin D3-CDK4/6 was observed [42]. Moreover, cyclin D3 complexes more efficiently phosphorylate p130 than do cyclin D1 complexes [43]. Finally, CDK4 and CDK6 may have different preferences for phosphorylation of specific sites in pRb protein [44], and we have recently found distinct specificities of pRb phosphorylation by CDK4 activated by cyclin D1 or cyclin D3 [45].
CDK4 activity is deregulated in many human tumors [46, 47]. It has been recently confirmed to be crucial for various oncogenic transformation processes [2, 48–53]. Deregulation does not only result from oncogenic hyperactivation of mitogenic signalling cascades ending at D-type cyclin gene transactivation. Every particular component of "the Rb pathway" act as tumor suppressors or protooncogenes (reviewed in [14, 46, 47]). Amplification or rearrangement of the genes encoding cyclins D1, D2 and D3 have been found in many human cancers and leukaemias. Oncogenic mutations of cyclin D1 enforcing its nuclear accumulation have been recently described [54]. Loss of p16 by mutation, deletion or gene silencing is extremely frequent. CDK4 itself is overexpressed as a result of gene amplification, or subject to a mutation that renders it insensitive to p16. Interesting models of CDK4/6 deregulation are also provided by some oncogenic viruses. Cyclin K encoded by Kaposi's sarcoma-associated herpesvirus strongly activates CDK6 and CDK4 through original mechanisms [55], and the Tax oncoprotein of human T-cell leukaemia virus type 1 directly binds to and activate CDK4, which involves enhanced cyclin D interaction and suppression of inhibition by p16 [56, 57].
CDK4 regulation
The so widespread deregulation of CDK4 in cancers underscores the necessity to fully understand the various mechanisms involved in its activation process. As initially considered, mitogens activate CDK4/6 by inducing at least one D-type cyclin (D1, D2 and D3) to concentrations allowing to overcome an inhibitory threshold imposed by INK4 CDK4/6 inhibitory proteins [58]. These proteins (p15, p16, p18, p19) bind to the catalytic domain of the isolated CDK4/6, thus preventing cyclin association and activation [59–61]. In short, the synthesis of cyclin D1 and cyclin D2 is stimulated by various mitogenic factors and repressed by growth inhibitory treatments (though cyclin D3 is often associated with quiescent cells [21]). On the opposite, the accumulation of INK4 inhibitory proteins is increased in anti-proliferative situations, such as senescence (p16), TGFβ treatment (p15)[62] or specific differentiation processes (p18 and p19)[63]. In some systems, CDK4 expression itself is increased, which can potentially titrate INK4 proteins, explaining for instance that overexpression of CDK4 can relieve TGFβ inhibition of proliferation [64].
Increased expression of a D-type cyclin is clearly not sufficient to activate CDK4. In this overview, we will address various molecular features of CDK4 activation that are critical but remain poorly known or debated, including the regulation of its association with D-type cyclins, its subcellular location, its activating Thr172-phosphorylation and the roles of Cip/Kip CDK "inhibitors" in these processes. We will often evocate questions raised by the S-phase entry in a specific model system that we have characterized, the primary culture of canine thyroid epithelial cells [65, 66]. Indeed, this physiologically relevant model displays several interesting features, including the coexistence of two very distinct mitogenic pathways [67, 68], which both require CDK4 activity [69, 70] : (i) a canonical mitogenic stimulation by growth factors associated with reversible dedifferentiation, and (ii) a mitogenic stimulation associated with enhanced thyroid function and differentiation expression by the physiological stimulus, TSH, which signals only through elevation of cellular cyclic AMP levels without activating most of the classical intermediates of growth factor-dependent cascades (including Ras, ERKs and PI3-kinase pathways)[65, 71–73]. Paradoxically, this cAMP-dependent triggering of cell cycle progression involves an accumulation of the p27kip1 CDK inhibitor [74] but not of the D-type cyclins [70], as observed in cell systems where cAMP blocks G1 phase progression [75, 76]. Cyclin D3 is nevertheless required in this differentiation-compatible mitogenic stimulation, but not for the proliferation stimulation by growth factors that induce the other D-type cyclins [70]. This specific requirement for cyclin D3 is consistent with the emerging concept that cyclin D3 might be more specifically involved in specialized cell cycles associated with maintenance or induction of differentiation [10, 21, 45].
Conclusion
The activation of CDK4 is a peculiarly complex process requiring different successive steps, which are distinguished by their independent regulations. This allows to better understand how CDK4 can function at the restriction point as a master integrator of various mitogenic and antimitogenic controls of the cell cycle. A few models, including the physiologically relevant example of the thyroid primary culture system, have allowed to dissociate the regulated assembly of D-type cyclin-CDK4 complexes from the accumulation of their individual partners, the nuclear import of these complexes from their assembly, and the activating phosphorylation of CDK4 from the formation and nuclear accumulation of the D-type cyclin-CDK4-p27/p21 holoenzyme (Figure
1
). We have identified this last step as an ultimate regulatory target determining CDK4 activity, pRb phosphorylation and the passage through the G
1
phase restriction point. Some evidence is emerging that the activation process of the six possible cyclin D1/2/3-CDK4/6 complexes could be subject to partly different regulatory mechanisms. Cyclin D3-CDK6 complexes appears to be especially resistant to inhibition by p16 [
196
] and p27 [
197
]. In T98G glioma cells, serum stimulates the phosphorylation of cyclin D3-bound CDK4 but not cyclin D3-bound CDK6 [
82
]. In thyrocytes, the distinct mitogenic pathways of growth factors or TSH appear to be channeled to preferentially activate and utilize CDK4 complexed to either cyclin D1 or cyclin D3 [
45
,
70
,
100
] (Figure
1
). This leads to partly different phosphorylations of pRb, which might differentially impact pRb function in the transcriptional regulation of genes involved in cell cycle or differentiation [
45
,
100
].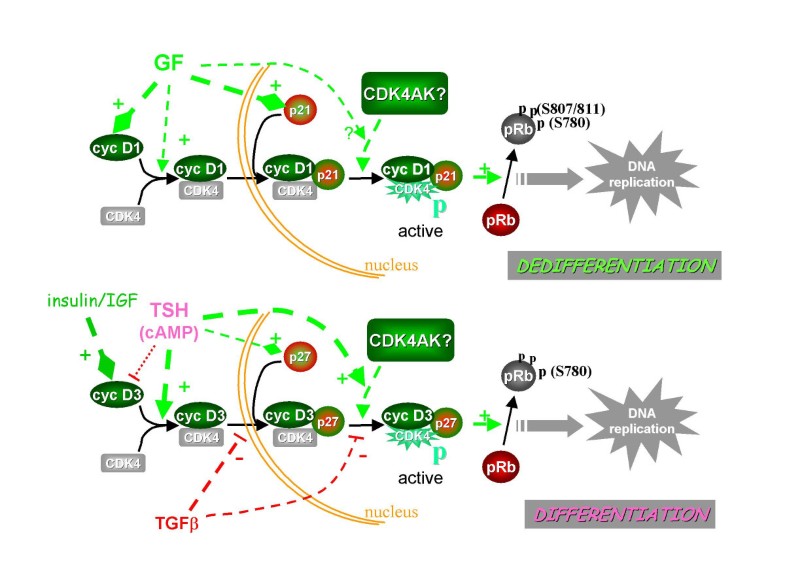 The visualization of the phosphorylation profiles, as resolved using 2D-gel electrophoresis, of CDK4 [82], CDK2 [182] and CDK1 (Kooken and Coulonval, unpublished results) has illustrated the different logics of their regulations. Cyclin-CDK1/CDK2 accumulate as a reservoir of inactive complexes containing both activating (Thr161/160) and inhibitory (Tyr15 and Thr14) phosphorylations until their activation by dephosphorylation of the inhibitory residues by Cdc25 phosphatases. On the other hand, CDK4 activity could not be generally restricted by substantial Tyr-phosphorylation, but by lack of activating phosphorylation, at variance with the corresponding phosphorylations of CDK2/1 by CAK which are not thought to be rate-limiting.
CDK4 activity is crucial in various tumorigenesis models and appears as a very attractive target for cancer therapy [198]. As discussed in this overview, increased expression of a D-type cyclin is clearly not sufficient to activate CDK4, which likely explains the lack of relationship between cyclin D1 overexpression and CDK4 activity in neoplastic epithelial cell lines [199]. Mechanisms responsible for the regulation of the assembly and activation of D-type cyclin-CDK complexes are crucial but remain largely enigmatic. They constitute obvious targets for oncogenic mechanisms. Their elucidation thus remains a major challenge that might lead to the discovery of new therapeutic targets.
Declarations
Acknowledgements
The authors are listed by alphabetical order and equally contributed to the definition of CDK4 regulation. Work performed in authors' laboratory was supported by grants from the Belgian Federation against Cancer, the Communauté française de Belgique – Actions de Recherches Concertées, the Belgian Fund for Scientific Medical Research (FRSM), the National Fund for Scientific Research (FNRS, Belgium) and Télévie. LB is a research fellow of the Télévie, HK is a fellow of the Fonds pour la Formation à la Recherche dans l'Industrie et l'Agriculture (FRIA). S.B. and P.P.R. are respectively Senior Research Assistant and Research Associate of the FNRS. The continued interest, helpful discussions and moral support by Professor Jacques Dumont are deeply acknowledged.
Authors' Affiliations
(1)
Institute of Interdisciplinary Research (IRIBHM), Faculté de Médecine, Université Libre de Bruxelles, Brussels, Belgium
Copyright
© Bockstaele et al; licensee BioMed Central Ltd. 2006
This article is published under license to BioMed Central Ltd. This is an Open Access article distributed under the terms of the Creative Commons Attribution License (http://creativecommons.org/licenses/by/2.0), which permits unrestricted use, distribution, and reproduction in any medium, provided the original work is properly cited.