The emerging regulatory potential of SCFMet30 -mediated polyubiquitination and proteolysis of the Met4 transcriptional activator
Received: 27 June 2008
Accepted: 25 July 2008
Published: 25 July 2008
Abstract
The yeast SCFMet30 ubiquitin ligase plays a critical role in cell division by regulating the Met4 transcriptional activator of genes that control the uptake and assimilation of sulfur into methionine and S-adenosyl-methionine. The initial view on how SCFMet30 performs its function has been driven by the assumption that SCFMet30 acts exclusively as Met4 inhibitor when high levels of methionine drive an accumulation of cysteine. We revisit this model in light of the growing evidence that SCFMet30 can also activate Met4. The notion that Met4 can be inhibited or activated depending on the sulfur metabolite context is not new, but for the first time both aspects have been linked to SCFMet30, creating an interesting regulatory paradigm in which polyubiquitination and proteolysis of a single transcriptional activator can play different roles depending on context. We discuss the emerging molecular basis and the implications of this new regulatory phenomenon.
Keywords
MethionineMET4 GeneBasic Leucine ZipperSulfur AssimilationMet4 Regulation
Review
In free-living single-celled organisms like yeast, metabolic pathways are exquisitely tuned to the availability of nutrients in the environment. The likelihood of sudden changes in availability of metabolites has led such organisms to acquire complex and dynamic feedback mechanisms that link nutrient availability to the control of biosynthetic pathways and to cell proliferation. The sulfur assimilation pathway is emerging as one of the most interesting examples of such a system, with the Met4 transcriptional activator involved in the uptake and assimilation of sulfur into the amino acids methionine and S-adenosyl-methionine (Fig.
1
, green) regulated not only by the metabolites, but also by cell division and oxidative stress-mediated responses.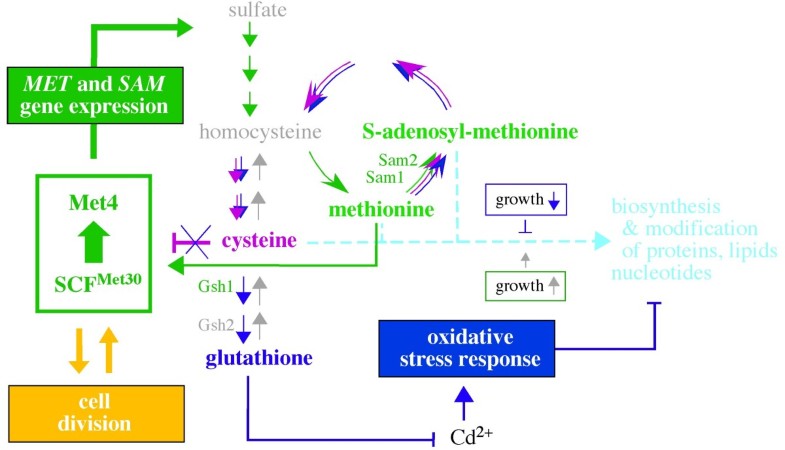 Analysis of Met4 function has first helped to establish the view that transcriptional activation is driven not only by binding of specific cofactors to activating sequences located upstream of promoters, but also by the assembly of highly specific multi-protein complexes (reviewed in [
1
]). Unlike most other basic leucine zipper proteins, Met4 cannot bind DNA directly due to an unusual arrangement of its
b
asic
d
omain (Fig.
2A
, BD*), explaining why its recruitment to specific promoters depends on an interaction with the DNA binding cofactors Cbf1 and/or Met31/32 (Fig.
2A
, gray). The benefits of the interaction are mutual, as Met4 regulates DNA binding by Cbf1 in a manner dependent on an interaction with the basic leucine zipper cofactor Met28 (Fig.
2A
, green), which does not bind Cbf1 directly and only weakly interacts with DNA [
2
]. A Met28-dependent conformational transition in Met4 could thus be responsible for the stimulation of DNA binding by Cbf1. The regulatory nature of the Met4-Met28 interaction is further illustrated by the finding that more Met28 binds Met4 during growth in a methionine-free medium [
3
], when the Met4-controlled
MET
and
SAM
genes are expressed, correlating with the recruitment of SAGA and mediator complexes [
4
]. Met32 can co-purify with Cbf1/Met4/Met28 located at promoters that do not contain the specific Met32-binding element [
5
], suggesting that Met32, like Met28, can play a yet unidentified, DNA binding independent regulatory role.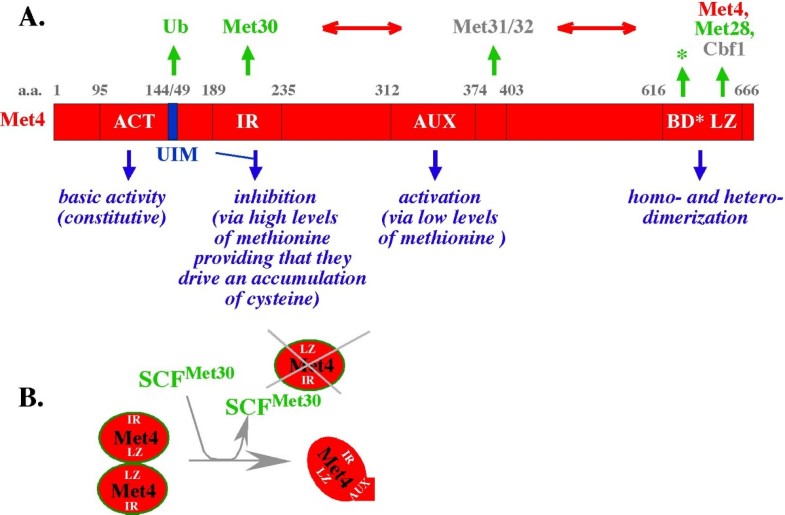 None of these effects have initially been linked to the regulation of the Met4 ac tivation of t ranscription ACT domain, which is constitutively active when fused to the LexZ DNA binding domain, but in the context of Met4 protein can be inhibited (by the inhibitory region IR) or activated (by the auxiliary AUX region) depending on the sulfur metabolite context (Fig. 2A; [6]). Instead, regulation of the ACT domain has been attributed to the Met30 F-box subunit of the ubiquitin-ligase SCFMet30, which via direct binding to the IR region (Fig. 2A, green) recruits Met4 for ubiquitination by the Cdc34 ubiquitin-conjugating enzyme [7–9]; reviewed in [10, 11]). Consistent with its interaction with the IR region, SCFMet30 has first been implicated in repression of the Met4-controlled genes during exposure to high levels of methionine, with the biosynthesis of S-adenosyl-methionine and cysteine being obligatory in this regulatory context [12]. While some investigators linked this effect to Met4 proteolysis [9, 13, 14, 3] and others to polyubiquitination only [15–18, 3], both groups placed SCFMet30 in a negative feedback response aimed at lowering the levels of sulfur metabolites via lowering the expression of Met4-controlled enzymes. It is disputable whether this role explains the essential nature of the link between Met4 regulation by SCFMet30 and cell division, as MET4 gene can be deleted without a major phenotype as long as methionine is supplied in the growth medium [15]. In contrast, the MET30 gene cannot be deleted without a loss of viability unless accompanied by a simultaneous deletion of the MET4 or MET32 gene [19]. The SCFMet30-Met4 interplay thus represents an interesting regulatory conundrum, in which some yet undefined aspect of the process of polyubiquitination and/or proteolysis rather than the removal or inhibition of the regulated protein per se plays an essential regulatory role.
A possible clue to the essential aspect of Met4 regulation by SCFMet30 is suggested by the recent observations that SCFMet30 function can be regulated by [3] and regulate [this work] the interaction between Met4 and cofactors, including Met32 (Fig. 2A, red arrows), and that SCFMet30 can either inhibit or activate Met4 depending on the sulfur metabolite context [3]. The emerging mechanism underlining these effects suggests a model in which Met4 activation is the primary aspect of its regulation by SCFMet30 (Fig. 1, green), while the inhibitory effect of cysteine results from a block in the activation mechanism (Fig. 1, purple). Before discussing this model, the molecular basis on which it is based, and its implications, we first discuss the results of recent quantitative proteome and metabolite profiling analyses [20], which provide an interesting insight into the main regulatory schemes involved in the control of sulfur metabolism.
Conclusion
Among the emerging variety of regulatory schemes involving ubiquitination and proteolysis in transcriptional regulation [37–40] the SCFMet30-Met4 interplay represents one of the most interesting and complicated examples. Analyses aimed at understanding why and how SCFMet30 regulates Met4 suggested first that polyubiquitination and proteolysis of a single transcriptional activator can play different roles depending on context. While recruitment of SCFMet30 determines the timing of Met4 polyubiquitination, Met4 proteolysis can be delayed by stabilization of the SCFMet30-Met4 interaction by Met4-interacting cofactors, unless specific sulfur metabolites are available to destabilize the tight complexes. As we propose here, SCFMet30 could "two-step" with Met4, first promoting its activation by dissociating Met4 homo-dimers and next removing the activated Met4. While proteolysis of the cofactor free-Met4 would have no immediate consequence for activity of the Met4 molecule located at a promoter, its degradation could be necessary to recycle SCFMet30 - a concept not frequently discussed in the literature. The SCFMet30-Met4 regulatory interplay is also the only known example of a mechanism in which some yet undefined aspect of the process of proteolysis rather then the removal of the regulated protein per se plays an essential regulatory role. The emerging complexity with which the seemingly simple principle of regulated proteolysis evolved into multiple regulatory layers fits particularly well to the regulation of metabolic systems, in which timely adjustments to a variety of metabolic, stress and growth signals are necessary for survival. It will thus be not surprising if the paradigms first observed in Met4 regulation by SCFMet30 played a role in other such systems.
List of abbreviations
Ub:

Ubiquitin
BD:

Binding domain
ACT:

Activation domain
AUX:

Auxiliary region
IR:

Inhibitory region
Cbf1:

Centromere binding factor 1
LZ:

Leucine zipper
bZIP:

Basic leucine zipper
bHLH:

Basic helix-loop-helix.
Declarations
Acknowledgements
The authors thank D. Raveh, M. Goebl, and J. Eissenberg for comments and discussions. This work was supported by National Institutes of Health grant GM65267 to D.S.
Authors' Affiliations
(1)
Edward A. Doisy Department of Biochemistry and Molecular Biology, Saint Louis University School of Medicine, St. Louis, USA
(2)
Department of Biochemistry and Biophysics, University of North Carolina, Chapel Hill, USA
Copyright
© Chandrasekaran and Skowyra; licensee BioMed Central Ltd. 2008
This article is published under license to BioMed Central Ltd. This is an Open Access article distributed under the terms of the Creative Commons Attribution License (http://creativecommons.org/licenses/by/2.0), which permits unrestricted use, distribution, and reproduction in any medium, provided the original work is properly cited.