Self-regulated mechanism of Plk1 localization to kinetochores: lessons from the Plk1-PBIP1 interaction
Received: 07 January 2008
Accepted: 23 January 2008
Published: 23 January 2008
Abstract
Mammalian polo-like kinase 1 (Plk1) has been studied extensively as a critical element in regulating various mitotic events during M-phase progression. Plk1 function is spatially regulated through the targeting activity of the conserved polo-box domain (PBD) present in the C-terminal non-catalytic region. Recent progress in our understanding of Plk1 localization to the centromeres shows that Plk1 self-regulates its initial recruitment by phosphorylating a centromeric component PBIP1 and generating its own PBD-binding site. Paradoxically, Plk1 also induces PBIP1 delocalization and degradation from the mitotic kinetochores late in the cell cycle, consequently permitting itself to bind to other kinetochore components. Thus, PBIP1-dependent self-recruitment of Plk1 to the interphase centromeres serves as a prelude to the efficient delivery of Plk1 itself to other kinetochore components whose interactions with Plk1 are vital for proper mitotic progression.
Keywords
Mitotic EventEarly MitosisSpindle MidzoneChromosome CongressionKinetochore Component
Background
Polo-like kinases (collectively, Plks) have been isolated from various species from budding yeast to mammalian cells. In addition to the N-terminal kinase domain, they are characterized by the presence of a highly conserved polo-box domain (PBD) in the C-terminal non-catalytic region that is critical for subcellular localization (Fig.
1A
) (see reviews, [
1
,
2
]). In mammalian cells, multiple Plks with distinct functions appear to exist. These include Plk1, Plk2/Snk, Plk3/Prk/Fnk, and Plk4/Sak. Plk4/Sak is the most distantly-related member of the Plks subfamily and one of the two isoforms, Sak-a, possesses a significant C-terminal extension with only the PB1 motif. Among these four members, Plk1 drew most of the attention because of its tight association with oncogenesis. Studies in various organisms have shown that Plk1 and its functional homologs in lower eukaryotic organisms (
Xenopus
Plx1,
Drosophila
polo, fission yeast Plo1, and budding yeast Cdc5) play critical roles in various mitotic events such as centrosome maturation, bipolar spindle formation, APC (anaphase promoting complex) activation, and cytokinesis. The mitotic functions of Plk1 during M-phase progression and the importance of PBD for Plk1 function have been comprehensively reviewed in recent years (see reviews, [
3
–
6
]). This communication will focus on the dynamic temporal and spatial regulation of Plk1 localization to the interphase and mitotic centromeres as cells proceed through the cell cycle. Failure in this regulation results in a chromosome congression defect that ultimately leads to chromosome missegregation and aneuploidy.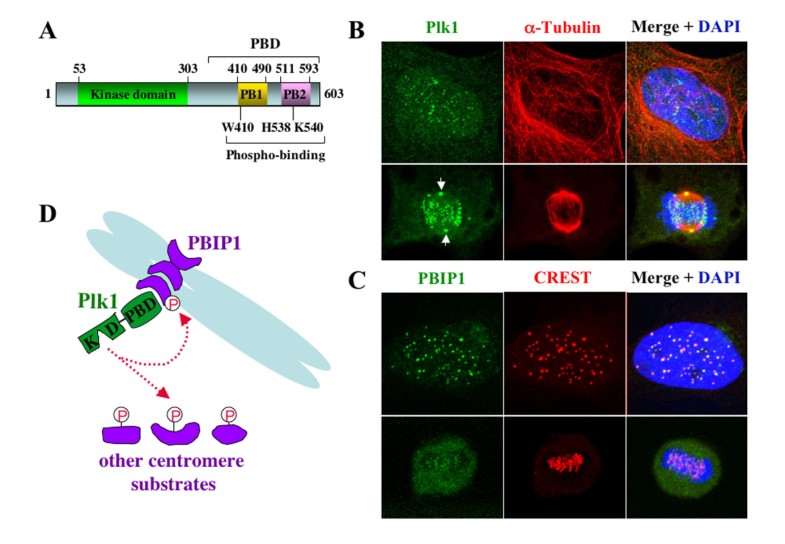 Declarations
Acknowledgements
We are grateful to Rachel H. Lee for her help in preparing the manuscript, and Yasuhiko Terada and Susan Garfield for critical comments and suggestions. We are also indebted to the present and past members of the Lee laboratory for their great work and stimulating discussions, and our collaborators for generously sharing their ideas. We apologize to all authors whose work could not be cited due to space limitations.
Authors' Affiliations
(1)
Laboratory of Metabolism, Center for Cancer Research, National Cancer Institute, National Institutes of Health, Bethesda, USA
Copyright
© Lee et al; licensee BioMed Central Ltd. 2008
This article is published under license to BioMed Central Ltd. This is an Open Access article distributed under the terms of the Creative Commons Attribution License (http://creativecommons.org/licenses/by/2.0), which permits unrestricted use, distribution, and reproduction in any medium, provided the original work is properly cited.