Cip/Kip cyclin-dependent protein kinase inhibitors and the road to polyploidy
Received: 29 April 2009
Accepted: 02 June 2009
Published: 02 June 2009
Abstract
Cyclin-dependent kinases (CDKs) play a central role in the orderly transition from one phase of the eukaryotic mitotic cell division cycle to the next. In this context, p27Kip1 (one of the CIP/KIP family of CDK specific inhibitors in mammals) or its functional analogue in other eukarya prevents a premature transition from G1 to S-phase. Recent studies have revealed that expression of a second member of this family, p57Kip2, is induced as trophoblast stem (TS) cells differentiate into trophoblast giant (TG) cells. p57 then inhibits CDK1 activity, an enzyme essential for initiating mitosis, thereby triggering genome endoreduplication (multiple S-phases without an intervening mitosis). Expression of p21Cip1, the third member of this family, is also induced in during differentiation of TS cells into TG cells where it appears to play a role in suppressing the DNA damage response pathway. Given the fact that p21 and p57 are unique to mammals, the question arises as to whether one or both of these proteins are responsible for the induction and maintenance of polyploidy during mammalian development.
Keywords
Polyploid CellOrigin Recognition ComplexMitotic Cell CycleAnaphase Promote ComplexTrophoblast Giant Cell
The road to polyploidy
When metazoan cells proliferate, they employ the mitotic cell cycle in which separation of sibling chromosomes during mitosis (M-phase) and DNA synthesis during genome duplication (S-phase) are separated by two intervening gaps of time called the G1 and G2-phases to generate a repeating series of events: M→G1→S→G2→M. Cell division (cytokinesis) occurs immediately after mitosis. Cell growth occurs primarily during G1-phase. In addition, metazoan cells can exit their mitotic cell cycle and enter a quiescent state termed G0 in which the living state is maintained in the absence of either cell growth or proliferation. Mitotic cell cycles restrict genome duplication to once and only once per cell division. Therefore, G1-phase somatic cells contain two copies of their genome (2N or diploid), whereas somatic cells in G2 or M-phases are tetraploid (4N DNA). Cells with greater than 4N DNA content are referred to as polyploid.
Polyploidy can result from aberrant DNA re-replication during S-phase. DNA re-replication occurs when newly assembled replication forks re-replicate parts of the genome that have already been replicated, resulting in replication bubbles within replication bubbles [1]. This occurs when one or more of the normal controls that prevent reutilization of replication origins during S-phase is circumvented. For example, DNA replication can be induced in some metazoan cells either by over-expression of Cdt1, a protein essential for loading the replicative MCM DNA helicase, or by suppression of the Cdt1 specific inhibitor geminin. Both changes promote loading of the MCM helicase at replication origins [2]. As DNA re-replication is not a normal part of mammalian growth and development, it triggers programmed cell death (apoptosis).
Polyploidy can also occur as a normal component of animal or plant development. This is common among ferns, flowering plants, arthropods, fish, and salamanders, but it is rare among mammals. Developmentally programmed polyploidy is the result of multiple S-phases in the absence of cytokinesis under conditions that prevent the induction of apoptosis. Such cells are terminally differentiated, they grow in size, but they no longer proliferate. Thus, the simplest mechanism by which cells become polyploid is acytokinetic mitosis, repeated S and M phases in the absence of cytokinesis (Fig.
1
). This occurs during liver development to produce multinucleated hepatocytes (Table
1
, [
3
–
19
]). Multinucleated cells also arise by cell fusion, a process in which G0-phase cells simply fuse their membranes together, to produce a single cell in which multiple nuclei are distributed throughout the cytoplasm. This occurs during skeletal muscle development.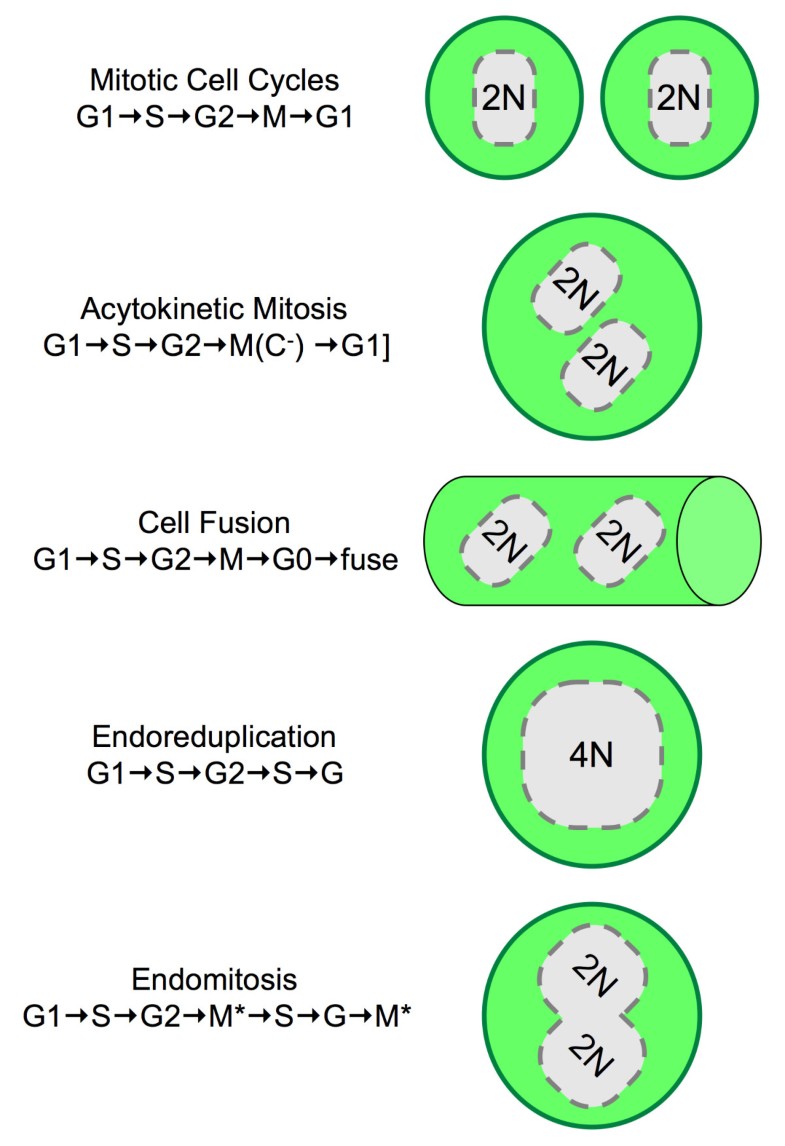 Table 1
Polyploidy and expression of p57 and p21 in mice
| Tissue | p57 | p21 | Polyploid | Mechanism |
| --- | --- | --- | --- | --- |
| Placenta[18] | + | + | + | Endoreduplication |
| trophoblast stem cell→giant cell | | | | |
| Bone Marrow[4] | - | + | + | Endomitosis |
| megakaryoblast→megakaryocyte | | | | |
| Liver[3] | + | + | + | Acytokinetic Mitosis |
| hepatocyte development | | | | |
| Skeletal Muscle[13] | + | + | + | Cell Fusion |
| myoblast→myotube | | | | |
| Bone[15] | ? | + | + | Cell Fusion |
| monocytes→osteoclasts | | | | |
| | ? | + | + | Cell Fusion |
| Syncytiotrophoblasts | | | | |
| | + | + | +* | ? |
| cardiomyocytes→myotube | | | | |
| Skin[9] | + | + | +* | ? |
| basal epithelial cell→keratinocyte | | | | |
| Kidney[10] | + | - | +* | ? |
| primitive podocyte→mature podo | | | | |
| | + | ? | ? | |
| lens epithelial cell→fiber cell | | | | |
| Bone[12] | + | + | ? | |
| osteoblast→bone | | | | |
| | + | ? | ? | |
| Chondrocytes→fiber cell | | | | |
The remaining two mechanisms by which cells become polyploid are genome endoreduplication and endomitosis. Endoreduplication occurs when a cell undergoes multiple S-phases without entering mitosis and without undergoing cytokinesis. This results in a giant cell with a single giant nucleus. Examples of endoreduplication are found among protozoa, arthropods, mollusks and plants. In contrast with these organisms, developmentally regulated endoreduplication in mammals is rare. The clearest example of endoreduplication occurs during differentiation of trophoblast stem cells into the trophoblast giant cells that are required for implantation of blastocysts into the uterine endothelium and placental development [20]. The DNA content of these giant cells generally ranges from 8N to 64N, although levels as high as 1000N have been reported
Endomitosis is similar to endoreduplication. Whereas endoreduplication results from arresting cells in G2-phase before they enter mitosis, endomitosis results from arresting cells within M-phase before they complete mitosis. The clearest example of endomitosis occurs in the bone marrow when megakaryoblasts differentiate into megakaryocytes, the cells that give rise to blood thrombocytes (platelets). The result is a single giant cell containing a single multilobulated nucleus with a genome content of up to 32N; each lobe presumably containing a diploid genome. With time, individual lobes may separate from one another to produce a multinucleated cell.
The pathways that regulate mitotic cell cycles are now understood in considerable detail [21]. This allows one to address the question, "How do mammalian cells switch from mitotic cell cycles to mechanisms that result in terminally differentiated polyploid cells?"
Conclusion
p57 Is Often, But Not Always, Associated With Polyploidy
Of the three CIP/KIP CDK inhibitors in mammals, only p27 and p21 have been shown to play a role in regulating mitotic cell cycles. p27 is expressed in all mammalian cells where it is primarily responsible for preventing premature entrance into S-phase, a role that may be common to both mitotic cells cycles and endocycles. p21 facilitates this role and in addition helps to prevent premature entrance into M-phase. The up-regulation of p21 in response to DNA damage arrests cells in G1-phase, revealing that excessive levels of CIP/KIP proteins can block DNA replication. Although more research is needed to clearly define the role of p21 in the differentiation and maintenance of polyploid cells, it appears to be involved in preventing polyploid cells from undergoing apoptosis through suppression of checkpoint pathways.
p57 is expressed at high levels specifically in terminally differentiated cells, most of which are clearly polyploid. In fact, p57 has been shown to be expressed in six of the eight tissues known to produce polyploid cells (Table 1). Surprisingly, however, the ability of p57 to induce endocycles during terminal differentiation of a mammalian tissue appears to be unique to the trophoblast cell lineage. Endoreduplication occurs only when p57 is expressed in TS cells. It is not expressed during endomitosis in MKCs, and its role in myoblast cell fusion is to arrest cells in G0-phase. The role of p57 in the other six tissues where it is expressed is unknown, but its likely role is to arrest cells either in G0 or G2-phase.
Going Polyploid
The results described above and summarized in Table 1 suggest a unifying view of developmentally programmed polyploidy. First, the essential step is inhibition of cytokinesis, not mitosis. Once cells lose the ability to divide, the presence or absence of p57 and/or p21 determine which of three possible roads to polyploidy is taken. Increasing the level of CIP/KIP proteins above those that occur during mitotic cell cycles arrests cells either in G0 (e.g. myoblasts), or in G2 (e.g. TS cells) or in anaphase (e.g. MKBs). When cells are arrested either in G2 or anaphase, preRC assembly occurs, because CDK activity is suppressed and geminin is degraded. These cells will undergo multiple S-phases without an intervening mitosis and therefore produce a single nucleus. However, if the cellular level of CIP/KIP inhibitors is not significantly elevated in cells that cannot undergo cytokinesis, then acytokinetic mitosis occurs to produce multinuclear cells. The advantage of either acytokinetic mitosis or cell fusion over endoreduplication and endomitosis may simply be that the former do not require uncoupling of checkpoint controls from genome duplication, whereas the later do.
Declarations
Acknowledgements
This work was supported by the intramural program of the National Institute of Child Health and Human Development.
Authors' Affiliations
(1)
National Institute of Child Health and Human Development, National Institutes of Health, Bethesda, USA
Copyright
© Ullah et al; licensee BioMed Central Ltd. 2009
This article is published under license to BioMed Central Ltd. This is an Open Access article distributed under the terms of the Creative Commons Attribution License (http://creativecommons.org/licenses/by/2.0), which permits unrestricted use, distribution, and reproduction in any medium, provided the original work is properly cited.