Crosstalk between NDR kinase pathways coordinates cell cycle dependent actin rearrangements
Received: 9 November 2011
Accepted: 11 November 2011
Published: 11 November 2011
Abstract
Regulation of cytoskeletal remodeling is essential for cell cycle transitions. In fission yeast two NDR kinase signaling cascades, MOR and SIN, regulate the actin cytoskeleton to promote polarized growth during interphase and cytokinesis respectively. Our understanding of how these signaling pathways are coordinated to assist transition between the two cell-cycle stages is limited. Here, we review work from our laboratory, which reveals that cross talk between the SIN and MOR pathways is required for inhibition of interphase polarity programs during cytokinesis. Given the conservation of NDR kinase signaling pathways, our results may define general mechanisms by which these pathways are coordinated in higher organisms.
Keywords
SINMORpolaritycytokinesisactin cytoskeleton
Introduction
Schizosaccharomyces pombe
are rod-shaped cells that grow by elongation at cell ends and divide by medial fission. These cells form an ideal system for the study of biochemical signaling pathways that underlie cell polarity and morphogenesis. The NDR kinase signaling cascades that control various aspects of growth and division in fission yeast are conserved in higher eukaryotes where they retain similar functions but have also acquired new ones (Figure
1
) [
1
,
2
].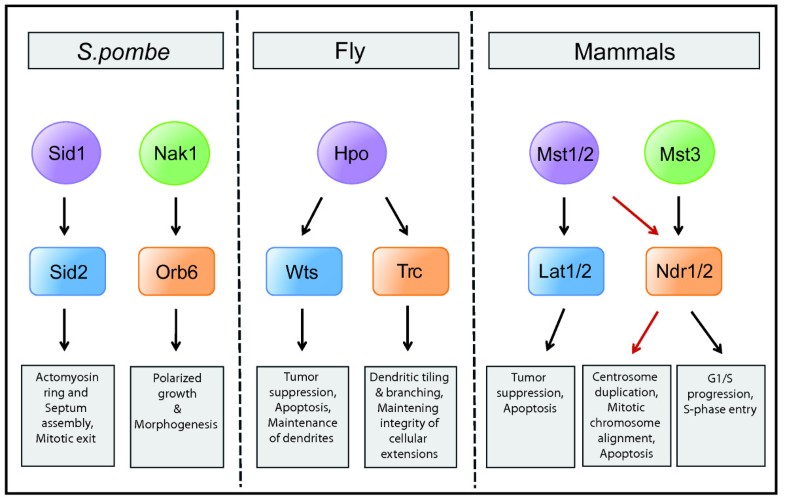 The Morphogenesis Orb6 Network (MOR), one of the two conserved NDR kinase pathways in fission yeast, is active throughout interphase and controls cell morphology and tip growth through accretion of actin to sites of cell growth [3, 4]. Actin is required at the cell tips for formation of F-actin patch structures as well as actin cables. While actin patches are well established as sites of active cell growth, actin cables serve as tracks on which a variety of cargo for cell growth and polarity are delivered to the cell ends [5–7]. The MOR has been implicated in F-actin patch assembly [8]. Moreover, it also regulates localization of the F-actin cable polymerization factor, For3 at the cell tips via spatial control of the Cdc42 GTPase, a central regulator of cell polarity [9]. The MOR signaling pathway includes Orb6 (an NDR kinase) [3]; its binding partner Mob2 [10] and its upstream activator, Nak1 (a STE-20 like kinase) [11, 12]. Pmo25 has been identified as a binding partner of Nak1 and is essential for the activities of both kinases in the pathway [4]. Mor2, which is a homolog of the Drosophila Furry protein, is thought to act as a scaffold that promotes the activation of Orb6 by Nak1 [13]. Mutants in any of the MOR components fail to grow in a polarized manner resulting in round morphology of the cells.
The Septation Initiation Network (SIN) constitutes the other NDR kinase pathway in fission yeast and is activated during late mitosis where it plays an essential role in cytokinesis. The SIN signaling cascade is regulated by an upstream GTPase, Spg1 that controls the protein kinases Cdc7, Sid1 (a STE 20-like kinase) and Sid2 (an NDR kinase) [14]. Most SIN components localize exclusively to the spindle pole body [14]. An exception to this is the Sid2 kinase, which, upon activation by Sid1, translocates from the SPB to the medial ring where it promotes assembly and constriction of the actomyosin ring as well as formation of the division septum [15]. SIN mutants are unable to maintain a stable actomyosin ring and display cytokinetic failure resulting in long multinucleate cells.
It is evident that performing the tasks of cell growth and division requires significant restructuring of the actin cytoskeleton. To promote polarized growth during interphase, actin is confined to the cell ends where it is required for cell wall deposition. As cells enter mitosis, actin relocalizes to the cell middle to form the contractile ring that marks the site of septum formation [5]. Coordination of actin localization as cells transition between interphase and mitosis is presumably important to keep competing actin polarity programs from interfering with each other. Recent work from our laboratory reveals a previously unknown link between the two NDR kinase signaling pathways in S. pombe (MOR and SIN) that is critical for proper regulation of actin polarity during cell cycle transitions [16].
Conclusion
In fission yeast, NDR kinases constitute central effectors of the MOR and SIN pathways. Our studies have uncovered a mechanism by which these pathways communicate in order to achieve sequential reorganization of the actin cytoskeleton during the cell cycle. Both NDR signaling pathways in S. pombe are conserved in higher eukaryotes, where several studies have provided a flurry of information emphasizing their biological relevance. For instance, in drosophila and mammalian systems, NDR kinase homologs Wts/Lat1/2 and Trc/NDR1/2 act as tumor suppressors and proto-oncogenes in addition to having conserved cell cycle functions in morphogenesis and mitotic exit. Their regulation of targets like p21 and c-Myc makes them highly appealing candidates for cancer therapy [1]. However, the presence of multiple isoforms of core components of the pathway like the Ste-20 like kinases, scaffold proteins, and MOB activators adds to the diversity of their biological functions; making it difficult to dissect these complex signaling networks in mammals. Therefore, examination of these pathways in relatively simple model systems like S. pombe can provide highly useful cues enabling us to pursue a more clear understanding of their functions in humans.
List of Abbreviations
SIN:

Septation Initiation Network
MOR:

Morphogenesis Orb6 Network, LatB: Latrunculin B
NDR:

Nuclear Dbf2 Related
MEN:

Mitosis Ext Network
RAM:

Regulation of Ace2 and morphogenesis
GAP:

GTPase Activating Protein
PCH:

Pombe Cdc15 Homology
MOB:

Mps One Binder
MST:

Mammalian sterile 20-like
Authors' Affiliations
(1)
Department of Microbiology and Physiological Systems, and Program in Cell Dynamics, University of Massachusetts Medical School, Worcester, Massachusetts, USA
Copyright
© Gupta and McCollum; licensee BioMed Central Ltd. 2011
This article is published under license to BioMed Central Ltd. This is an Open Access article distributed under the terms of the Creative Commons Attribution License (http://creativecommons.org/licenses/by/2.0), which permits unrestricted use, distribution, and reproduction in any medium, provided the original work is properly cited.