The retinoblastoma family of proteins and their regulatory functions in the mammalian cell division cycle
Received: 2 March 2012
Accepted: 14 March 2012
Published: 14 March 2012
Abstract
The retinoblastoma (RB) family of proteins are found in organisms as distantly related as humans, plants, and insects. These proteins play a key role in regulating advancement of the cell division cycle from the G1 to S-phases. This is achieved through negative regulation of two important positive regulators of cell cycle entry, E2F transcription factors and cyclin dependent kinases. In growth arrested cells transcriptional activity by E2Fs is repressed by RB proteins. Stimulation of cell cycle entry by growth factor signaling leads to activation of cyclin dependent kinases. They in turn phosphorylate and inactivate the RB family proteins, leading to E2F activation and additional cyclin dependent kinase activity. This propels the cell cycle irreversibly forward leading to DNA synthesis. This review will focus on the basic biochemistry and cell biology governing the regulation and activity of mammalian RB family proteins in cell cycle control.
Keywords
Cell cycleSenescenceTranscriptionCyclin dependent kinase
Introduction
The retinoblastoma gene (RB1) was first identified based on its mutation in a rare malignancy of the eye [1, 2]. Shortly thereafter, viral oncogenes such as human papilloma virus E7, simian virus TAg, and adenovirus E1A, were discovered to target it for inactivation during cellular transformation [3–5]. Based on sequence similarity, and analogous interactions with viral proteins, two other members of the RB family were identified, RBL1 and RBL2 that code for the p107 and p130 proteins, respectively [6–11]. All three RB family members contain a conserved domain referred to as the 'pocket' that interacts with the LXCXE motif found in viral proteins such as TAg [12]. For this reason the RB family is also frequently called the pocket protein family. Pocket proteins are present and thought to be central to the regulation of proliferation in many diverse organisms [13]. Furthermore, deregulation of cell cycle control in cancer requires the inactivation of their growth regulatory function [14].
In cancer, the RB1 gene is most frequently inactivated through alterations to cyclin dependent kinase regulation, however, in specific cancer types such as small cell lung cancer and retinoblastoma it is uniformly abrogated by direct mutation [15, 16]. Reports of cancer derived mutations in the other RB family genes are less common, nevertheless, experimental models of cancer using mice that are deficient for these genes indicate that RBL1 and RBL2 loss can enhance the cancer phenotype in RB1 mutant animals [17–20]. This suggests that the pocket protein family has a collective role in cell cycle control and tumor suppression. In most cancers, their ability to regulate the cell cycle is likely bypassed by altering their common upstream cyclin dependent kinase regulators [15]. At the same time, differences in cancer derived mutations between these genes suggest there may be important biological differences within the RB family. Research on the pocket proteins has often followed this paradigm. In some circumstances the RB family of proteins are perceived to function analogously, while in other instances they can have dramatically different functions. In this review the basic biochemical functions of the pocket proteins will be emphasized. To guide readers through the intricacies of this gene family, we will make particular care to emphasize their similarities and contrast their differences.
The pocket protein family: pRB, p107, and p130
The RB family members share many structural properties (Figure
1A
). The most extensive sequence homology lies in the well-conserved,
small pocket
region, which consists of A and B domains that are separated by a flexible spacer region [
21
]. These A and B domains each represent a single cyclin fold domain [
22
] and interact such that the small pocket is self sufficient to form a transcription repressor on its own [
23
–
25
]. The small pocket is the minimal fragment of pRB that is capable of interacting with viral oncoproteins, such as E1A and TAg [
26
]. Even though they are derived from highly unrelated viruses, these viral proteins each contain a peptide motif called LXCXE that is essential for a stable interaction with RB family proteins [
4
,
27
–
30
]. Crystallographic data has revealed that the LXCXE motif contacts a shallow groove on pRB, that is among the most well conserved features among pocket protein family members, and among pocket proteins across species [
22
]. In addition to the viral proteins, a number of cellular proteins are reported to contain an LXCXE-like motif that allows them to interact with pRB, p107 and p130 [
12
]. Many of these LXCXE containing proteins possess chromatin regulating activity, or are components of complexes that possess this activity. For these reasons, cellular proteins that contact this region of pocket proteins are generally thought to negatively regulate transcription and this will be described in more detail in the ensuing sections of this review.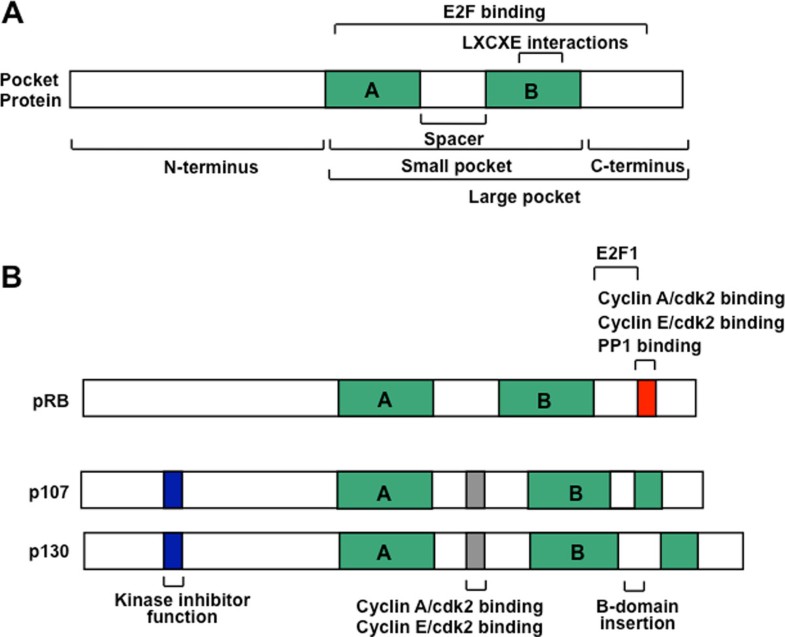 The combination of the small pocket and the C-terminal domain has been coined the large pocket (Figure 1A), and it is the minimal growth suppressing domain found in RB family proteins [31]. The large pocket fragment is sufficient to interact with E2F family transcription factors and suppress their transcription [32, 33]. Interaction with E2Fs is a common feature of RB family proteins that plays a key role in their ability to control proliferation. While E2F interactions are distinct from LXCXE contacts, binding of viral oncoproteins through the LXCXE motif tethers them in close proximity so that a separate region on the viral protein can disrupt binding between pocket proteins and E2Fs [34–36]. This further emphasizes the importance of RB family-E2F interactions because disrupting them is essential for E1A viral oncogene driven transformation [37].
While the overall structure of the pocket domain is well conserved between the three proteins, p107 and p130 are more closely related to each other by sequence similarity than either is to pRB [21]. Surprisingly, despite pRB's prominent description as the central tumor suppressor within this family, and divergence in sequence similarity [17], there are few obvious structural features that it possesses that are missing from p107 and p130 (Figure 1B). Two unique features of pRB that have emerged recently are a docking site used only by the E2F1 transcription factor, and a short peptide region in the C-terminus that is competitively occupied by cyclin/cyclin dependent kinases (CDKs) or protein phosphatase 1 (PP1) (Figure 1B). The region of pRB that mediates these interactions has little obvious sequence divergence from p107 and p130 and the functional basis for these distinct aspects of pRB function will be discussed extensively in later sections. So while there is little to distinguish pRB from its siblings, somewhat surprisingly there are a number of well known features in p107 and p130 that aren't present in pRB. Both p107 and p130 proteins contain insertions in the B domain of their small pockets. In the case of p130, this insert is subject to regulatory phosphorylation to maintain protein stability [38]. Furthermore, p107 and p130 contain longer spacer regions than pRB, and their spacers allow them to interact stably with cyclin dependent kinase complexes [39–41]. Lastly, p107 and p130 contain an N-terminal region that serves to inhibit cyclin dependent kinases [41].
The ability of pocket proteins to use these structural features allows them to interact with a myriad of binding partners to control cell cycle advancement, and perhaps much more. The uses of these interaction sites will be expanded on and discussed in greater detail below.
The role of pocket proteins in an advancing cell cycle
In order to illustrate the roles of pocket proteins in cell cycle regulation we will begin by describing an idealized mammalian cell cycle (Figure
2
). In this way, our goal is to summarize data from many experimental systems and condense it into a model that best captures our current understanding of RB family protein function throughout the mammalian cell cycle.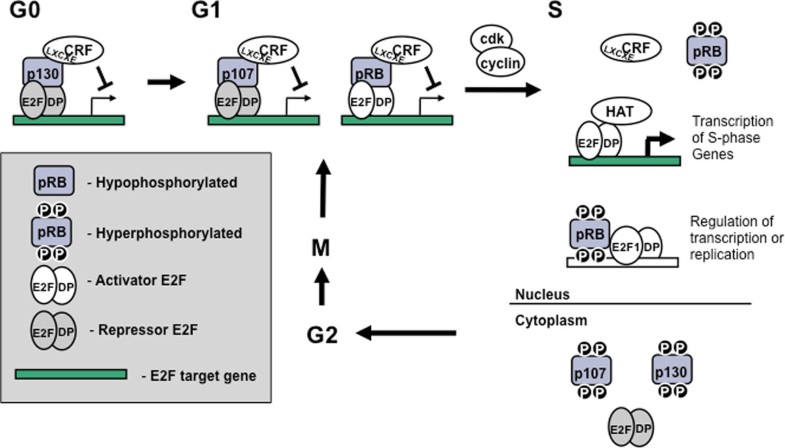 The role of pocket proteins in cell cycle exit
The preceding sections of this review have highlighted the roles played by RB family proteins in a typical mammalian cell cycle. In addition to ensuring fidelity in replication and cell division, they are also critical to orchestrating a cell's exit from proliferation. This occurs either as a checkpoint to repair DNA damage before resuming proliferation, or it can be more permanent as in terminal differentiation during development where cells ultimately move into a G0 like state. The ensuing sections are meant to provide a basic overview of how cell cycle exit is controlled by pocket proteins. A number of examples of cell cycle exit are used to highlight how the different pocket proteins participate in this process. Outlining the intricacies of all known RB-dependent cell cycle arrest events is beyond the scope of this review. The following examples were selected because they offer some of the best insight into the unique roles of the different RB-family proteins during this process.
Activation of pocket proteins during a reversible cell cycle arrest
As explained in the earlier section on progression through G1, this is the cell cycle phase where pocket proteins are best able to influence cell cycle decisions. For this reason RB-family dependent cell cycle arrest in G1 requires the inhibition of cyclin dependent kinases to keep pocket proteins underphosphorylated and active. The members of the INK4 and CIP/KIP families of cyclin dependent kinase inhibitors play a crucial role in this activation step (Figure 4). One mechanism of pocket protein activation is in response to DNA damage. Following DNA double strand breaks, p53 is activated and induces expression of p21CIP1 [14]. This inhibitor then blocks activity of cyclin dependent kinases and prevents the phosphorylation of RB-family proteins. This will ensure that cells remain in the G1 phase of the cell cycle because the pocket proteins will remain hypophosphorylated. If DNA damage occurs in S-phase, as described in a previous section of this article, phosphatases are also necessary to dephosphorylate RB-family proteins to ensure they are capable of binding E2F transcription factors [114]. DNA damage offers one of the best examples of how an exogenous stimulus can communicate growth arrest signals to central regulators of proliferation like the pocket proteins.
Another informative example of an extra cellular signal leading to inactivation of cyclin dependent kinases and activation of RB family proteins is during an arrest that is stimulated by the growth suppressing cytokine TGF-β. In particular, this example demonstrates differences among pocket proteins and how they contribute to a cell cycle arrest. Like DNA damage, TGF-β signaling directly induces expression of cyclin dependent kinase inhibitor proteins [132]. In epithelial cells the INK4 protein p15INK4B is induced by TGF-β [133]. Since INK4 proteins can only bind and inhibit activity of cyclin D associated kinases, part of the inhibitory mechanism involves the displacement of CIP/KIP proteins such as p27KIP1 from D-type cyclins so that they are free to inhibit cyclin E or cyclin A associated kinases [132]. TGF-β signaling also inhibits degradation of p27KIP1, further ensuring that this inhibitor molecule increases in abundance [134]. TGF-β blocks cell cycle advancement in the G1 phase [135], for this reason its actions serve to arrest cells that have already progressed to G1 and then maintain pocket proteins in an active, hypophosphorylated state. In this circumstance, pRB is required to repress expression of E2F target genes [76]. Furthermore, a complex containing Smad2/3, p107, and E2F4/5 is recruited to the c-Myc promoter to repress its transcription in response to TGF-β [136]. Intriguingly, this co-Smad role for p107 and E2F4/5 can be activated by TGF-β signaling at any stage of the cell cycle. This suggests that individual pocket proteins have highly specialized roles in responding to cell cycle arrest signals. Furthermore, recent evidence also suggests non-E2F dependent roles for pRB in TGF-β cell cycle arrest, further emphasizing the diverse nature of pocket protein function in this cell cycle arrest paradigm [137].
TGF-β signaling induces proliferative arrest in many cell types. The cyclin dependent kinase inhibitors that it regulates vary between these cells. Each of p15INK4B, p21CIP1, and p57KIP2 are transcriptionally upregulated individually, or in combination, depending on the cell type in question [132]. This points to the importance of cyclin dependent kinase inhibition in maintaining pocket proteins in an active state in G1 (Figure 4). Further evidence of the importance of the whole RB-family in cell cycle arrest is exemplified by the ectopic expression of the p16INK4A protein in cells deficient for different combinations of pocket proteins. Loss of pRB, or the combined loss of p130 and p107, both abrogate p16INK4A induced cell cycle arrest, revealing a broad requirement for pocket proteins in responding to cyclin dependent kinase inhibition [138]. These experiments suggest that collectively the pocket protein family participates in cell cycle arrest that is stimulated by exogenous signals such as TGF-β.
Recruitment of chromatin regulating factors by pocket proteins in senescence
The TGF-β arrest mechanism described above is reversible, implying that once the growth arrest signal is removed cell proliferation can resume. However, prolonged stimulation by TGF-β, or chronic genotoxic stimuli such as DNA breaks or telomere attrition, can cause cells to enter a permanent arrest known as senescence [139]. This subsection of the review will discuss the functions of RB-family proteins in establishing a permanent cell cycle arrest. RB-family dependence in senescence is well supported by experiments using mouse embryonic fibroblasts deficient for all pocket proteins, because these cells fail to senesce in response to oncogenic Ras or ectopic expression of cyclin dependent kinase inhibitors [140–142]. Similarly, disruption of just pRB and p107 abrogates Ras-induced senescence and results in uncontrolled proliferation. Furthermore, loss of pRB in already senescent cells leads to a reversal of this cell cycle arrest and a resumption of proliferation[142, 143]. Thus, these studies collectively emphasize roles for the whole RB-family, as the phenotypes of individual gene knock outs can't account for deregulated proliferation found in triple deficient cells.
As above, cell cycle arrest in senescence is initiated through increased expression of cyclin dependent kinase inhibitors; in particular p16INK4A expression is induced in senescence. Once activated, the pocket proteins can repress transcription of E2F targets and cause the cell cycle to arrest. Since this also happens in reversible cell cycle arrest, there has been considerable interest in mechanisms that establish long term gene silencing at E2F targets [144]. As described earlier, the pocket proteins contain a well-conserved binding cleft that mediates interactions with LXCXE containing proteins involved in transcriptional repression [53]. Importantly, RB-family proteins can interact with E2Fs and LXCXE proteins simultaneously. This allows pocket proteins to recruit LXCXE containing proteins, particularly ones that have chromatin regulating activity, to the promoters of E2F-responsive genes where they are responsible for condensation of chromatin and inhibition of transcription. Chromatin remodeling enzymes that have been identified to bind to RB-family proteins include SWI/SNF remodeling factors such as BRG and BRM, histone deacetylases (HDAC1, 2 and 3), and histone methyltransferases (Suv39h1 and 2), among others [145–152]. The diversity of these interacting proteins allows the pocket proteins to exert widespread effects on chromatin structure. For example, pRB has been associated with decreased histone acetylation and increased H3K9 and H3K27 trimethylation at the promoters of E2F target genes [153]. By mediating histone deacetylation, as well as methylation, pRB contributes to the formation of heterochromatin [153]. Taken together, this suggests that pRB may facilitate a reversible arrest by deacetylating histones and directing a more permanent arrest through histone methyltransferases and gene silencing. Indeed, key cell cycle E2F target genes are reported to be silenced by pRB and a side by side comparison revealed that p107 and p130 are dispensable for regulation of these same genes [154]. Furthermore, cells from a gene targeted mutant mouse strain in which pRB is unable to interact with LXCXE motif containing proteins demonstrates that pRB can support the initial entry into senescence, but can't permanently silence transcription. Histones at E2F target genes fail to be methylated, and transcription of these targets is activated by ectopic E2F expression [155]. Assembly of heterochromatin is often undertaken in promyelocytic leukemia (PML) bodies, and pRB and E2Fs are associated with PML in senescence [156]. This places pRB in the heart of the mechanism that assembles heterochromatin during senescence.
The ability to recruit chromatin remodeling enzymes to the promoters of E2F target genes is not limited to pRB alone, as both p107 and p130 can repress E2F activity through recruitment of histone deacetylases [157, 158]. However, there is less evidence for p107 or p130 recruiting histone methyltransferases, consistent with pRB having a unique role in gene silencing. Work by Shamma et al. offers an example of p130 recruiting Suv39h1 to E2F gene promoters in senescence to methylate histones in the absence of pRB [159]. Other reports have demonstrated that the mammalian DREAM complex containing p130 plays a key role in the maintenance of senescence [160, 161]. In this scenario Dyrk kinases phosphorylate the Lin52 subunit in the DREAM complex and this facilitates assembly with p130 and gene silencing of E2F targets in the maintenance of senescence.
Beyond the regulation of transcription at specific E2F target genes, senescent human cells are often characterized by senescence associated heterochromatic foci (SAHF) [162]. These are heterochromatin bodies containing individual chromosomes that have been shown to be associated with pRB mediated repression of E2F target genes and their formation is dependent on pRB function [163, 164]. These heterochromatin structures have many features in common with inactive X-chromosomes suggesting that pRB function in senescence is key to triggering large scale chromatin changes as a downstream consequence [165].
Conclusions
The sections described above are in no way meant to recap all of the important contributions in pocket protein research but rather to provide an overview of the advances that have shaped our understanding of pocket protein function in cell cycle regulation. There are many fundamental questions in proliferative control that remain to be answered. From this work, some basic principles of pocket protein function may be emerging. For example, the sections on G1 to S-phase transition and cell cycle exit both illustrate the role for pRB in transition from one phase to another, or from proliferation to arrest. In this sense pRB is less critical in a population of rapidly proliferating or quiescent cells, but becomes more important when cells are faced with decisions to enter or exit a proliferative state. In general, the roles of p107 and p130 proteins are less central to cell cycle decisions. Instead, the abundance of p130 and the regulation of its assembly into the DREAM complex suggests that its role is most crucial in the maintenance of prolonged cell cycle arrest such as in quiescence or senescence. This may offer some insight into why the RB1 gene is mutated in cancer, but the RBL2 gene (encoding p130) is generally spared. While pRB's and p130's roles and periods of activity are becoming clearer in relation to one another, p107 remains an enigma. Comparisons between cells deleted for the genes encoding all pocket proteins and those deleted for pRB and p130 together demonstrate a clear contribution of p107 to the overall role of RB-family proteins in cell cycle control. However, there are few circumstances in which p107 has a biochemical function that isn't replaceable by other pocket proteins. Responsiveness to TGF-β and suppression of c-Myc transcription appears to be its sole unique function [136], and even this has yet to be demonstrated to be essential for TGF-β growth suppression. Future work on RB-family proteins will need to continue to uncover unique roles for these proteins, only then will we truly understand how they collectively regulate cell proliferation.
Abbreviations
CDK:

Cyclin dependent kinase
CKI:

Cyclin dependent kinase inhibitor
DREAM:

DP: RB-like: E2F: And MuvB
E2F:

E2 promoter binding factor
HDAC:

Histone deacetylase
LXCXE:

Leucine-any amino acid-cysteine-any amino acid-glutamate peptide motif
PML:

Promyelocytic leukemia
PP1:

Protein phosphatase one
RB:

Retinoblastoma
SAHF:

Senescence associated heterochromatic foci
TGF-β:

Transforming growth factor beta
Declarations
Acknowledgements
Research funding on RB-family proteins in cell cycle control and cancer has been provided to FAD by the Canadian Cancer Society Research Institute, the Cancer Research Society, and the Canadian Institutes for Health Research. SAH thanks the Canadian Breast Cancer Foundation (Ontario Chapter) for post-doctoral fellowship support.
Authors' Affiliations
(1)
London Regional Cancer Program, Western University, London, Canada
(2)
Children's Health Research Institute, Western University, London, Canada
(3)
Department of Biochemistry, Western University, London, Canada
(4)
Grande Prairie College, Grande Prairie, Alberta, Canada
Copyright
© Henley and Dick; licensee BioMed Central Ltd. 2012
This article is published under license to BioMed Central Ltd. This is an Open Access article distributed under the terms of the Creative Commons Attribution License (http://creativecommons.org/licenses/by/2.0), which permits unrestricted use, distribution, and reproduction in any medium, provided the original work is properly cited.