Transient defects of mitotic spindle geometry and chromosome segregation errors
Received: 20 July 2012
Accepted: 24 July 2012
Published: 11 August 2012
Mitosis, the process by which a single eukaryotic cell partitions its genetic material, has fascinated scientists for over a century, and already in the late 1800s Walther Flemming described the processes of chromosome segregation and cell division with exquisite detail [
1
,
2
]. Four main structures, consisting of centrosomes, a microtubule-based mitotic spindle, kinetochores, and chromosomes [
3
,
4
], cooperate to form the mitotic apparatus (Figure
1
A) in vertebrate somatic cells. The centrosomes are specialized organelles, each consisting of a pair of centrioles and pericentriolar material, and they play a key role in mitotic spindle assembly by serving as the primary sites of microtubule nucleation [
5
,
6
]. Molecular motors act to move the replicated centrosomes to diametrically opposing positions around the nucleus [
7
–
9
] (Figure
1
A, Prophase), thus ensuring assembly of a fusiform and symmetric microtubule-based mitotic spindle once the nuclear envelope breaks down. At the same time, within the nucleus, the chromosomes undergo significant condensation (Figure
1
A, Prophase) while kinetochores assemble on the centromeric region of each sister chromatid of the replicated chromosomes (reviewed in [
10
]). Upon nuclear envelope breakdown, which marks the beginning of prometaphase, the kinetochores become available for capture by dynamically searching microtubules (Figure
1
A, Prometaphase). The kinetochore is a large protein complex that constitutes the attachment site for microtubules of the mitotic spindle on each chromatid [
11
]. In addition to acting as attachment sites for microtubules, kinetochores are also part of a signaling pathway, termed the spindle assembly checkpoint (SAC), that facilitates the coordinated and accurate segregation of chromosomes by preventing anaphase onset until all kinetochores are bound to microtubules (reviewed in [
12
]). As mitosis progresses, chromosomes establish attachments with microtubules and undergo poleward and anti-poleward movements, which are generated by minus end and plus end directed motors located at the kinetochore as well as along the chromosome arms [
13
–
19
]. Eventually, all chromosomes align between the two centrosomes, at the equator of the mitotic spindle, forming the metaphase plate (Figure
1
A, Metaphase). Upon chromosome alignment, the SAC becomes satisfied [
20
], and the sister chromosomes segregate and move towards opposite spindle poles (Figure
1
, Anaphase). All of these events must occur in a highly coordinated manner for accurate chromosome segregation into the two daughter cells. If any aspect of this process goes awry, cells may end up with an incorrect number of chromosomes, a state referred to as aneuploidy, which is the leading cause of mis-carriage and birth defects in humans and is a hallmark of cancer (reviewed in [
21
,
22
]). Thus, fidelity of the mitotic process is important for development and growth, as well as for homeostasis, repair, and renewal of adult tissues. In this review, we will focus on how defects in mitotic spindle geometry affect the fidelity of mitosis and how transient spindle geometry defects contribute to chromosomal instability in cancer cells.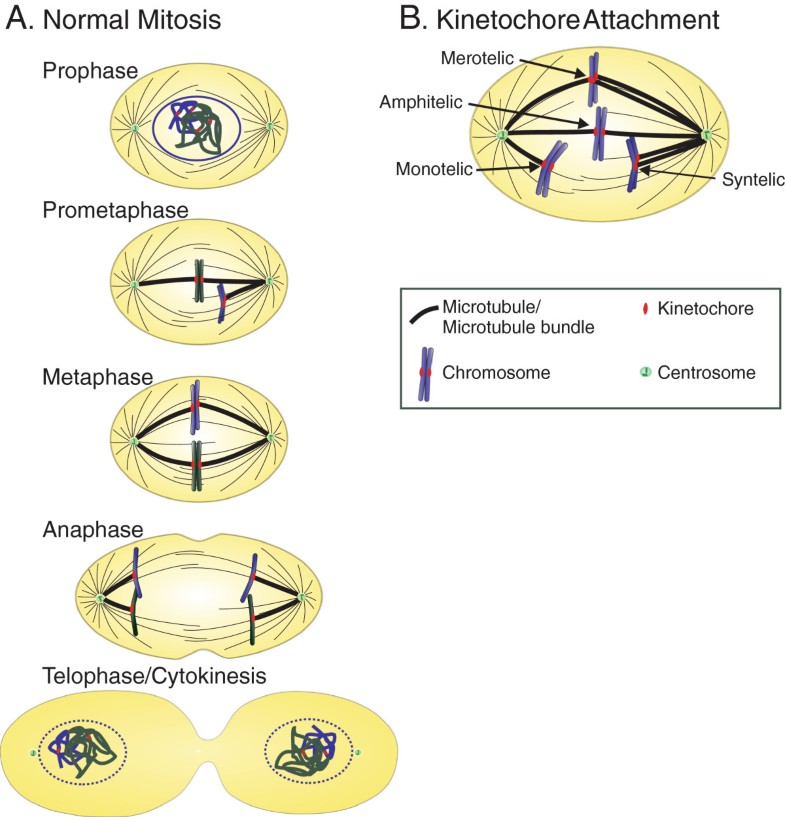 (1)
Department of Biological Sciences, Virginia Tech, 1981 Kraft Dr, Blacksburg, VA 24061, USA
© Silkworth and Cimini; licensee BioMed Central Ltd. 2012
This article is published under license to BioMed Central Ltd. This is an Open Access article distributed under the terms of the Creative Commons Attribution License (http://creativecommons.org/licenses/by/2.0), which permits unrestricted use, distribution, and reproduction in any medium, provided the original work is properly cited.