Resolving RAD51C function in late stages of homologous recombination
Received: 16 May 2007
Accepted: 04 June 2007
Published: 04 June 2007
Abstract
DNA double strand breaks are efficiently repaired by homologous recombination. One of the last steps of this process is resolution of Holliday junctions that are formed at the sites of genetic exchange between homologous DNA. Although various resolvases with Holliday junctions processing activity have been identified in bacteriophages, bacteria and archaebacteria, eukaryotic resolvases have been elusive. Recent biochemical evidence has revealed that RAD51C and XRCC3, members of the RAD51-like protein family, are involved in Holliday junction resolution in mammalian cells. However, purified recombinant RAD51C and XRCC3 proteins have not shown any Holliday junction resolution activity. In addition, these proteins did not reveal the presence of a nuclease domain, which raises doubts about their ability to function as a resolvase. Furthermore, oocytes from infertile Rad51C mutant mice exhibit precocious separation of sister chromatids at metaphase II, a phenotype that reflects a defect in sister chromatid cohesion, not a lack of Holliday junction resolution. Here we discuss a model to explain how a Holliday junction resolution defect can lead to sister chromatid separation in mouse oocytes. We also describe other recent in vitro and in vivo evidence supporting a late role for RAD51C in homologous recombination in mammalian cells, which is likely to be resolution of the Holliday junction.
Keywords
Homologous RecombinationSister ChromatidMeiotic RecombinationSister Chromatid CohesionDicentric Chromosome
Background
Exchange of genetic material by homologous recombination during meiosis is essential for generating genetic diversity in living organisms. It also results in the formation of chiasmata, that are the cytological manifestation of crossovers and ensure proper chromosome segregation. Homologous recombination is important for error-free repair of damaged DNA as well [
1
]. One of the key steps of this process is the exchange of DNA strands between homologous chromosomes, which results in the formation of a cross-stranded DNA structure (Figure
1
). More than 40 years ago, Robin Holliday proposed the formation of such an intermediate during DNA recombination [
2
]. It was hypothesized that such recombination intermediates, now known as Holliday junctions (HJs), can be resolved by the endonucleases capable of binding to such specialized DNA structures [
3
]. In 1982, the first resolvase was identified [
4
]. It was the bacteriophage T4 endonuclease VII, which was shown to cleave Holliday structures
in vitro
by nicking two strands of the same polarity near the branch point. The breaks generated as a result of this cleavage could be sealed by a DNA ligase, resulting in intact resolved products. A search for resolvases in other organisms resulted in the identification of one of the best-characterized resolvases, RuvC of
E. coli
[
5
,
6
], which resolves Holliday junctions by introducing concerted nicks across the junction branch point. Two additional proteins, RuvA and RuvB, have been shown to be an integral part of the resolvosome complex that facilitates the movement of HJ along the DNA in an ATP-dependent manner, in a process known as branch migration (Figure
1
) [
7
]. Recently, resolvases that share some structural similarity with
E. coli
RuvC have been identified like CCE1 in yeast, RuvC in
Lactoccocal
bacteriophage and A22R in Poxvirus [
8
–
11
]. Some other distinct resolvases have been identified in bacteriophages, such as the T7 endonuclease I, RusA and Rap [
12
,
13
]. In addition, Hjc and Hje proteins from archaebacteria demonstrate HJ cleaving activity [
14
–
16
].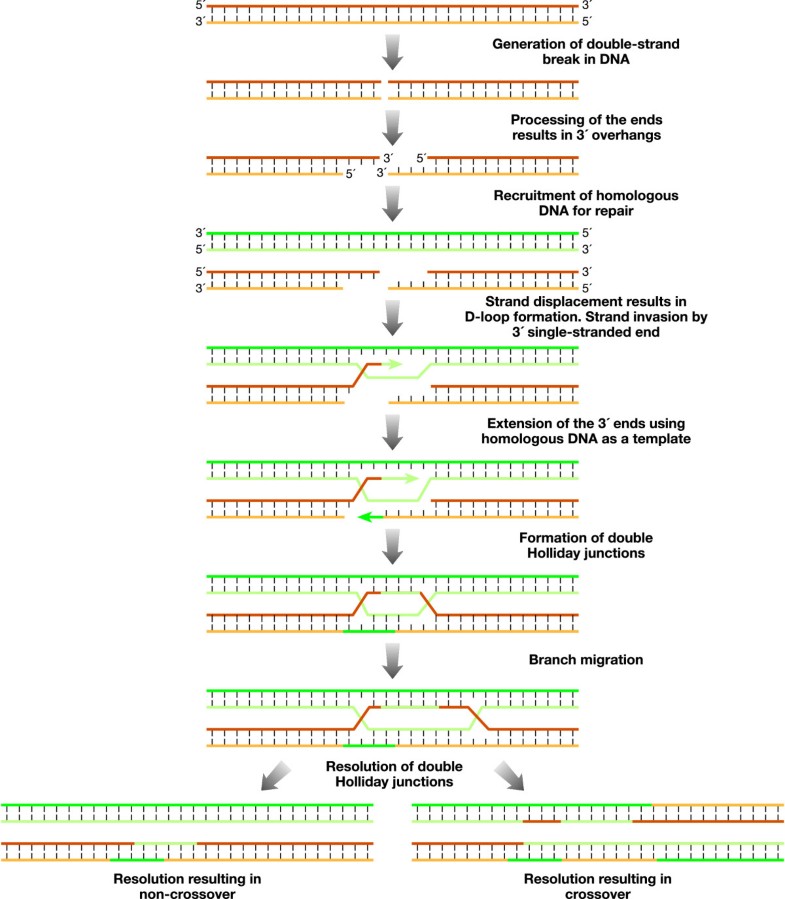 Conclusion
Three years since the initial report showing a role for RAD51C in HJ resolution in mammalian cells, are we any closer to resolving the biological function of RAD51C? In spite of all the biochemical experiments and examination of loss-of-function mutations in Drosophila, Arabidopsis, and mice, the late function in HJ resolution remains to be unequivocally demonstrated. The model to explain the phenotype of Rad51c mutant oocytes at metaphase II is intriguing but needs to be validated. It will be fascinating to directly observe the oocytes undergoing in vitro maturation by time lapse imaging to visualize the bivalents being pulled to opposite poles but remaining attached at the site of the crossover by chiasmata-like structures during anaphase I. Also, it will be interesting to examine the fate of shugoshin and cohesins on the centromeres that have undergone precocious separation. An alternative approach may be to bypass the early meiotic arrest during male meiosis by using a conditional Rad51c allele and generating appropriate meiosis-specific Cre transgenic lines. This approach may provide a more convincing phenotype and help explain the late role of RAD51C in homologous recombination. Similar studies on XRCC3 in meiotic recombination may also provide valuable clues.
Declarations
Acknowledgements
The authors thank Drs. Stephen West and Yilun Liu for critical review of the manuscript and Allen Kane of the Publication Department for the illustrations.
Authors' Affiliations
(1)
Mouse Cancer Genetics Program, Center for Cancer Research, National Cancer Institute, Frederick, USA
Copyright
© Sharan and Kuznetsov; licensee BioMed Central Ltd. 2007
This article is published under license to BioMed Central Ltd. This is an Open Access article distributed under the terms of the Creative Commons Attribution License (http://creativecommons.org/licenses/by/2.0), which permits unrestricted use, distribution, and reproduction in any medium, provided the original work is properly cited.