Fez1/Lzts1 a new mitotic regulator implicated in cancer development
Received: 23 July 2007
Accepted: 24 August 2007
Published: 24 August 2007
Abstract
Considerable evidence has accumulated suggesting that cancer has genetic origin, based on the development of genomic alterations, such as deletions, mutations, and/or methylations in critical genes for homeostasis of cellular functions, including cell survival, DNA replication and cell cycle control. Mechanism controlling the precise timing and sequence of cell cycle events as well as checkpoints insuring fidelity of those events are key targets that when disrupted could result in tumorigenesis. Mitosis is the process by which a cell duplicates its genetic information (DNA), in order to generate two, identical, daughter cells. In addition each daughter cell must receive one centrosome and the appropriate complements of cytoplasm and organelles. This process is conventionally divided in to five distinct stages: prophase, prometaphase, metaphase, anaphase and telophase that correspond to a different morphology of the cell. The entry into mitosis (M) is under the control of the cyclin dependent kinase Cdk1. During G2, the kinases Wee1 and Myt1 phosphorylate Cdk1 at T14/Y15 residues, rendering it inactive. The transition from G2 to M is promoted by the activation of Cdk1 via dephosphorylation by the Cdk1 phosphatase Cdc25C. Activated Cdk1 complexes translocate into the nucleus during prophase where phosphorylate numerous substrates in order to enhance their activation as the cells progresses trough prophase, prometaphase, and metaphase.
Recently we identified a new player: FEZ1/LZTS1 that contributes to the fine-tuning of the molecular events that determine progression through mitosis, and here will review its role in cancer development and in M phase regulation.
Keywords
Esophageal CancerProstate Cancer Cell LineCdk1 ActivityPrimary Gastric CancerMitotic Exit
Background
Frequent loss of heterozygosity (LOH) at specific chromosomal regions in tumors implies the presence of tumor suppressor genes. One of these regions, located at the short arm of chromosome 8 (8p21.3–22) has been pointed out as frequently lost in different human malignancies as well as implicated in tumor progression. Investigation of this region, in primary esophageal cancer, has allowed the identification of the human
FEZ1/LZTS1
(Leucine-Zipper Tumor Suppressor 1) gene at chromosome 8p22 [
1
].
LZTS1
gene show in non-cancerous cells a 6.8 kb mRNA including a 1.7 kb open reading frame (ORF), spanning exons 1–3, which encodes a 596-aa protein of 67 kDa [
1
]. Homology search of databases showed that the protein contains two Leucine-zipper motifs (Fig.
1
) and it has 32% identity to the DNA binding domain of a cAmp-responsive activating transcription factor, Atf-5, although Lzts1 lacks the DNA recognition sub-domain usually found upstream of a Leucine-zipper motif in transcription factor. Moreover, searches for motifs and compositional analyses inside the Lzts1 protein sequence revealed the presence of multiple potential phosphorylation sites for different kinases (Fig.
1
), such as PKA, CDC2 and PKC. The product of the
LZTS1
gene is the founding member of a three member family proteins, all of which harbor a Leucine zipper Fez domain [
2
,
3
]. Interestingly protein alignment of the three members (Lzts1, Lzts2 and Lzts3) showed significant sequences similarity, particularly in the C-terminal potential Leucine zipper regions. Although recently has been reported [
4
] that the nuclear export sequence identified in Lzts2 is not conserved in both the Lzts1 and the Lzts3 proteins, suggesting a potential role for Lzts2 in the regulation of nuclear and cytoplasmic trafficking, which may reveal a different function for this family member.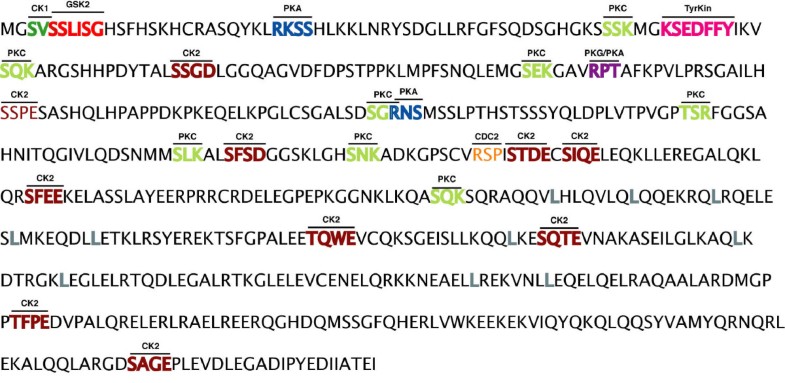 Conclusion
Human tumor suppressors often function as negative regulator of the cell cycle. In fact their mutations can lead to failure of cell cycle checkpoint controls resulting in the accumulation of genetic changes contributing to a tumor phenotype. Several tumor suppressors are known to modulate the activities of Cdk/cyclin complexes. We focus here on a newly identified factor: Lzts1 which alterations lead to premature mitotic exit that results in chromosomal instability and aneuploidy. Being Lzts1 frequently down-regulated in many human tumors further investigations are needed in order to better understand its functions, eventually uncovering new opportunities for approaching cancer and other proliferation-related diseases.
Declarations
Acknowledgements
We would like to thanks all the members of our labs for helpful discussion and suggestion. This work is supported by grants from AIRC and from Istituto Superiore di Sanità (Programma Oncotecnologico) to A.V. and G.B.
Authors' Affiliations
(1)
Department of Molecular Virology, Immunology and Medical Genetics and Comprehensive Cancer Center, Ohio State University, USA
(2)
Division of Anatomical Pathology, II Faculty of Medicine, University "La Sapienza", Ospedale Santo Andrea, Rome, Italy
(3)
Division of Experimental Oncology 2 CRO-IRCCS, Aviano, Italy
Copyright
© Vecchione et al; licensee BioMed Central Ltd. 2007
This article is published under license to BioMed Central Ltd. This is an Open Access article distributed under the terms of the Creative Commons Attribution License (http://creativecommons.org/licenses/by/2.0), which permits unrestricted use, distribution, and reproduction in any medium, provided the original work is properly cited.