Stat3: linking inflammation to epithelial cancer - more than a "gut" feeling?
Received: 1 April 2010
Accepted: 17 May 2010
Published: 17 May 2010
Abstract
Inflammation is an important environmental factor that promotes tumourigenesis and the progression of established cancerous lesions, and recent studies have started to dissect the mechanisms linking the two pathologies. These inflammatory and infectious conditions trigger immune and stromal cell release of soluble mediators which facilitate survival and proliferation of tumour cells in a paracrine manner. In addition, (epi-)genetic mutations affecting oncogenes, tumour-suppressor genes, chromosomal rearrangements and amplifications trigger the release of inflammatory mediators within the tumour microenvironment to promote neoplastic growth in an autocrine manner. These two pathways converge in tumour cells and result in activation of the latent signal transducer and activator of transcription 3 (Stat3) which mediates a transcriptional response favouring survival, proliferation and angiogenesis. The abundance of cytokines that activate Stat3 within the tumour microenvironment, which comprises of members of the interleukin (IL) IL6, IL10 and IL17/23 families, underpins a signaling network that simultaneously promotes the growth of neoplastic epithelium, fuels inflammation and suppresses the host's anti-tumour immune response. Accordingly, aberrant and persistent Stat3 activation is a frequent observation in human cancers of epithelial origin and is often associated with poor outcome.
Here we summarize insights gained from mice harbouring mutations in components of the Stat3 signaling cascade and in particular of gp130, the shared receptor for the IL6 family of cytokines. We focus on the various feed-back and feed-forward loops in which Stat3 provides the signaling node in cells of the tumour and its microenvironment thereby functionally linking excessive inflammation to neoplastic growth. Although these observations are particularly pertinent to gastrointestinal tumours, we suggest that the tumour's addiction to persistent Stat3 activation is likely to also impact on other epithelial cell-derived cancers. These insights provide clues to the judicious interference of the gp130/Stat3 signaling cascade in therapeutically targeting cancer.
Keywords
Anaplastic Lymphoma KinaseDextran Sodium SulfateIndirubinGp130 ReceptorApcMin Mouse
Introduction
Chronic infection and the ensuing inflammation are among the most important epigenetic and environmental factors that contribute to tumourigenesis and the progression of established cancerous lesions [1]. Aberrant proliferation alone is insufficient to cause cancer, which requires both an initial mutagenizing event that triggers neoplastic behaviour, as well as a microenvironment that is rich in factors which support cellular survival, growth and promote angiogenesis. Many of these cytokines, angiogenic factors and chemokines are produced by activated stroma and immune cells which accumulate in situ during chronic inflammation [1]. As these factors not only exert profound effects on (neoplastic) epithelium, endothelial and mesenchymal cells, but also recruit immune cells, the cancer microenvironment shares many molecular features of a 'never healing wound'. In addition, tumour cells themselves acquire the ability to subvert the host's anti-tumourigenic innate and adaptive immune responses [2, 3]. Accordingly, the risk of cancer development increases with the failure to appropriately resolve immune responses, which promote excessive tissue remodeling, loss of tissue architecture, and cellular stress on proteins and DNA.
Compelling evidence for a link between inflammation and cancer comes from several epidemiological studies. Chronic inflammation triggered by viral or bacterial infection increases the risk for the development of papilloma virus-associated cervical cancer [4, 5], hepatitis B and C-associated hepatocellular carcinoma and Epstein Barr virus-associated lymphoproliferative disorder [6], and bacterial infections can promote metastasis following surgery [7]. In the gastrointestinal tract, Helicobacter pylori (H.pylori)-associated gastric cancer along with ulcerative colitis and Crohn's disease-associated colorectal cancer comprise major health issues. Besides familial adenomatous polyposis and the hereditary nonpolyposis colon cancer syndrome, ulcerative colitis accounts for one of the three highest risk groups for developing colorectal cancer [8, 9]. Accordingly, the use of non-steroidal anti-inflammatory drugs (NSAIDs) and inhibitors of the rate limiting Cox-2 enzyme in the prostaglandin E2 pathway, not only inhibits chronic inflammation in patients with premalignant disease, but also reduces the risk of cancer of the colon, lung, stomach, esophagus and ovaries [10].
In recent years, studies in genetically modified mice have helped to dissect and characterize some of the underlying molecular events that link inflammation to cancer [
11
,
12
]. For instance, the development of colorectal cancer is increased in various knockout mouse models of inflammatory bowel disease [
13
–
16
], and epidemiological evidence links polymorphisms in the corresponding genes to increased inflammation and cancer susceptibility in humans. Perhaps the greatest insights, however, have been mutant mice carrying loss- and gain-of-function mutations in intracellular components where a number of oncogenic signalling cascades converge. In this review we focus on Stat3, because it provides a central signaling node for neoplastic cells to induce transcriptional responses which promote tumour growth. Stat3 is aberrantly activated in a majority of cancers of epithelial origin [
17
,
18
]. Moreover, Stat3 plays an important role in determining the outcome of the interaction between cancers and immune cells, both in terms of suppressing anti-tumour activities as well as facilitating a tumour promoting inflammatory microenvironment. These roles have recently been clarified in the gastrointestinal tract, where Stat3 has attracted attention for its capacity to functionally link inflammation to tumourigenesis (Figure
1
).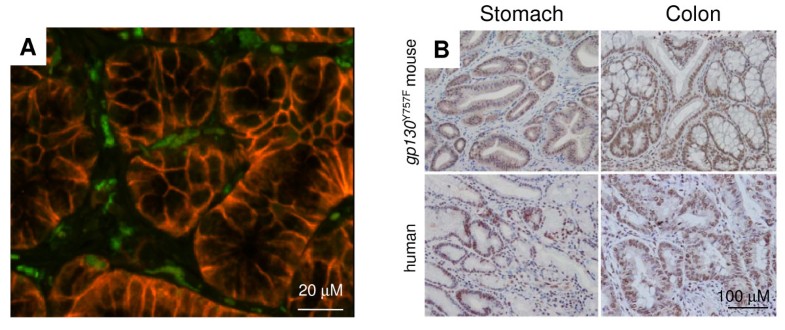 Stat3 mode of action
All seven Stat proteins act as latent transcription factors that primarily mediate signalling from cytokine and growth factor receptors. Following their activation through phosphorylation on carboxy-terminally located conserved tyrosine residues and subsequent reciprocal SH2 domain interaction, Stat proteins form stable homo- and/or heterodimers in the cytoplasm [15]. Their subsequent nuclear translocation enables binding to DNA in a sequence-specific manner and results, usually in conjunction with other cofactors, in transcriptional regulation of target genes. Different Stat proteins show preferred specificity for individual cytokine family receptors. Stat1 primarily promotes growth arrest, apoptosis, and anti-tumour immunity downstream of type I and II interferons as demonstrated by the susceptibility of Stat1-deficient mice to develop tumours [19]. By contrast, Stat3 mediates activity of cytokines generally associated with systemic acute phase and cancer-promoting inflammatory responses. Stat3 can also be activated by other cancer-associated receptor tyrosine kinases, including those for epidermal growth factor and scatter factor c-Met [20–22]. Meanwhile, cellular transformation by the cytoplasmic tyrosine kinase c-src [23] or chromosomal translocation involving the anaplastic lymphoma kinase Alk is also dependent on Stat3 [24, 25]. These cytoplasmic tyrosine kinases, often in conjunction with Jaks, are likely to mediate Stat3 activation subsequent to many other cancer-initiating, toxic insults, including UV-radiation, stress, and smoke [26, 27].
Functionally the most important Stat3 regulators are the IL6 and IL10 family of cytokines (Figure
2
). The IL6 family of ligands is defined by its shared use of the gp130 receptor β-subunit. Binding of IL6 and IL11 to their respective IL6Rα and IL11Rα receptor subunits triggers gp130 homodimerisation, while the remaining IL-6 family ligands (comprising LIF, CNTF, CT-1, Oncostatin M and IL27) induce formation of heterodimeric gp130 receptor complexes [
16
]. Engagement of gp130 triggers activation of the associated Janus kinases Jak1, Jak2 and Tyk2 [
28
,
29
] and subsequent tyrosine phosphorylation of gp130. While the four membrane-distal residues in the cytoplasmic tail of gp130 are required and sufficient for subsequent activation of Stat3, and to a lesser extent of Stat1, an additional membrane-proximal phospho-tyrosine residue (Y
757
in mouse, Y
759
in human) enables activation of the Ras/ERK pathway via the tyrosine phosphatase Shp-2. The same phospho-tyrosine in gp130 also serves as the binding site for the negative regulator Socs3, which is transcriptionally induced by Stat3. Binding of Socs3 to the activated gp130 complex results in its proteosomal degradation, thereby maintaining Stat3 activity of a transient nature. Accordingly, tissue-specific Socs3 ablation in mice amplifies ligand-dependent gp130 signalling, while the Y
757
F tyrosine-to-phenylalanine substitution in the corresponding
gp130
Y757F
knock-in mutant mice results in excessive activation of Stat3 and Stat1 [
30
,
31
]. Interestingly, in the context of gp130 mediated Stat activation, Stat1 and Stat3 are capable of regulating each other [
32
,
33
].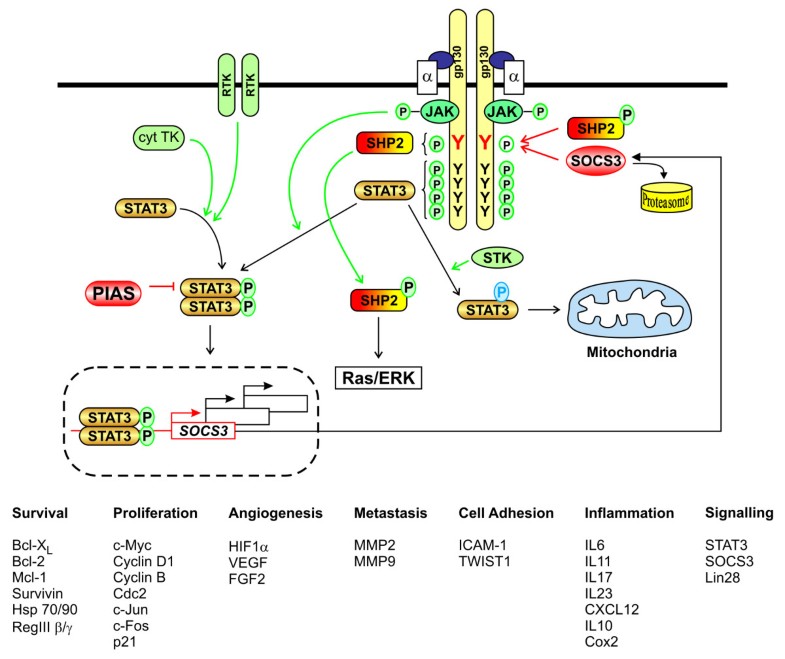 The IL10 family of cytokines shares the common IL10Rβ receptor subunit and comprises IL10, IL19, IL22 and IL24. IL10 confers broad anti-inflammatory responses in IL10Rα chain expressing cells, and these responses are amplified in a feed-forward loop encompassing Stat3-dependent transcriptional induction of
Il10
[
34
]. Accordingly, mice lacking
il10
or harbouring
Stat3
-deficient macrophages are characterized by excessive cytokine release and develop colitis [
35
,
36
]. IL22 is expressed during chronic inflammation by Th17, natural killer (NK) and Dendritic (DC) cells [
37
] and acts on IL-22R subunit expressing (intestinal) epithelial cells to induce IL10 and acute phase protein production [
38
]. Since the IL10-family receptor subunits lack Socs3 binding sites, IL10-mediated receptor engagement results in sustained Stat3 activation (Figure
3
). Thus at least in macrophages, Socs3 provides the key molecular switch determining whether Stat3 promotes an inflammatory or anti-inflammatory response [
39
]. Accordingly, transient Stat3 activation by IL6 in wild-type macrophages promotes an inflammatory response, while sustained Stat3 activation by IL6 of
gp130
Y757F
mutant macrophages suppresses the inflammatory gene response through the induction of transcriptional repressors [
39
,
40
]. Similarly, sustained gp130 and Stat3 activation in Socs3-deficient macrophages triggers a strong anti-inflammatory response [
41
–
43
] and expression of the canonical TGFβ signaling pathway inhibitor Smad7 [
31
].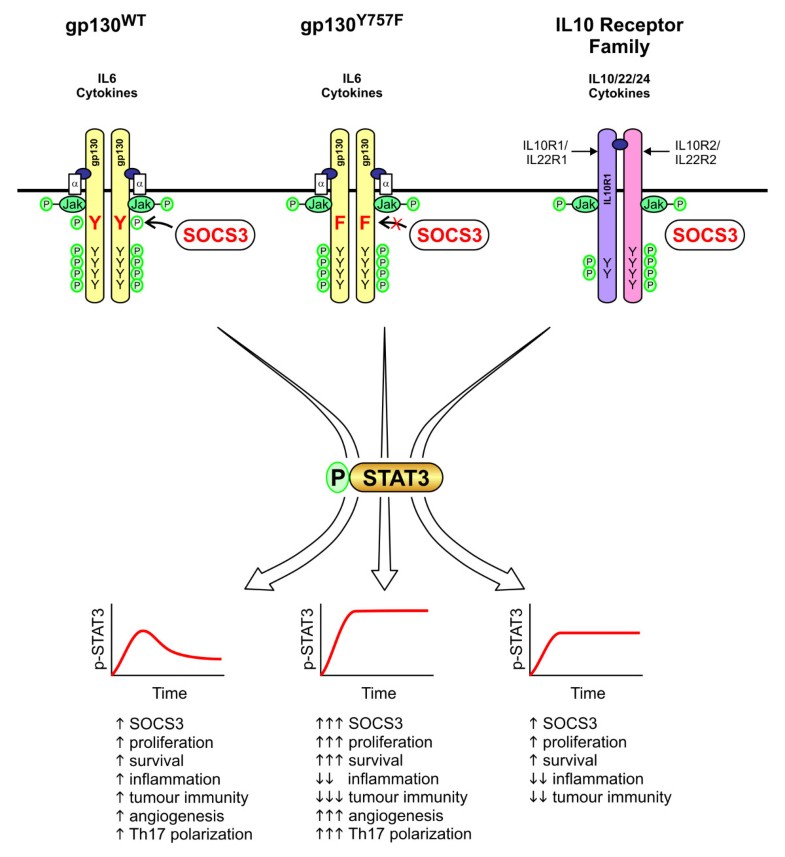 Since Stat3 occupies a central node for many converging signaling pathways, excessive Stat3 activity in tumours can result from oversupply of (IL6-family) cytokines and other growth factors within the tumour microenvironment. Besides these paracrine (or cell-extrinsic) pathways, activation of (proto-)oncogenes, inactivation of tumour-suppressor genes, chromosomal rearrangement/amplification and other genetic events in neoplastic cells either directly trigger Stat3 activation, or the release of inflammatory mediators as part of an autocrine (or cell-intrinsic) pathway. Remarkably, there is no genetic evidence for constitutively activating mutations within STAT3 itself. However, a variety of cancers harbour activating point mutations in Jak2 [44] and gp130 in-frame deletion mutations, which mediate ligand-independent activation of Stat3, are found in hepatocellular carcinomas [45]. Excessive activation of Stat3 can also result from impairment mutations affecting any of the negative regulatory proteins which limit the extent of Stat3 activation under physiological conditions [46]. For instance, epigenetic silencing of the negative regulator SOCS3 occurs in epithelial cancers [47], while other cancers show somatic mutations in Stat3-inactivating phosphatases T and δ [48, 49]. Owing to their capacity to inactivate upstream tyrosine kinases or to sequester phosphorylated Stat3 from de novo Stat-dimers, mutagenic alterations in the cytosolic tyrosine phosphatases CD45 [50, 51], SHP1 and SHP2 [50, 51], or the SUMO E3 ligase Pias3 [52] and Grim19 [53] are also expected to result in excessive activation of Stat3-dependent target genes.
Cellular outcomes of Stat3 activation
A decade ago, Hanahan and Weinberg have suggested that the malignant growth characteristics of cancer cells requires six essential alterations in cellular physiology, namely self-sufficiency in growth signals, insensitivity to growth inhibiting signals, evasion of apoptosis, unlimited cellular replication, sustained angiogenesis, and tissue invasion and metastasis [54]. They argued that each change represents a new capability acquired during tumour development which overcomes rate limiting steps for anti-cancer defence mechanisms in normal cells. Stat3 promotes at least three of these hallmarks (proliferation, survival and angiogenesis) and often more when investigated in specific cell types.
Stat3 inhibits apoptosis by up-regulating the pro-survival Bcl-2 proteins Bcl-XL, Mcl-1 and Bcl-w [55–58]. In epithelial cells, Stat3 also induces other proteins that indirectly suppress apoptosis, including the chaperone protein Hsp70 [59] and the C-type lectin-type RegIIIβ, which are both overexpressed in human colon cancer and inflammatory bowel disease [60, 61] (Figure 2). In conjunction with c-jun, Stat3 inhibits the extrinsic apoptosis pathways through transcriptional repression of the FAS death receptor [62]. Stat3-mediated induction of survivin not only suppresses apoptosis, but also promotes mitogenic progression through binding to cdc2 [63, 64]. However, Stat3 promotes proliferation primarily by stimulating transcription of cyclinB1, cdc2, c-myc and cyclinD1 [55, 65, 66], along with the induction of the immediate early genes c-jun and c-fos [67] and repression of the cell cycle inhibitor p21 [68]. Accordingly, Stat3 promotes the G1/S phase transition of the cell cycle in gastric, colon and squamous cell carcinoma, as well as in bladder cancer cells [65, 68–70]. By contrast, Stat3 ablation in intestinal epithelium in vivo or in tumour cell lines in vitro resulted in cell cycle arrest in the G2/M transition and is associated with histone H3 phosphorylation-associated mitotic arrest [68].
Among the angiogenic factors, VEGF and HIF1α stand out as prominent transcriptional targets for Stat3 [71, 72], and a requirement for Stat3 has been proposed for functionality of HIF1α [73]. Accordingly, Stat3 is required for endothelial cell survival and their arrangement into new vascular structures [74], while nuclear Stat3 correlates with enhanced VEGF expression and microvessel density in gastric cancer [75, 76]. Since Stat3 inhibition also blocks VEGF expression in tumours characterized by aberrant activation of Src [77], therapeutic targeting of Stat3 may inhibit neovascularisation in tumours associated with excessive signaling through epidermal growth factor receptor. Stat3 may also promote neovascularisation by mediating endothelial cell responses to other growth factors, including granulocyte-macrophage stimulating factor [78]. Excessive activation of Stat3 correlates with tumour invasion and metastasis in a variety of cancers [17, 18] and high level of tyrosine-phosphorylated STAT3 is a pertinent feature in colon and gastric cancers associated with adverse outcomes [79] (Figure 1). Finally, Stat3 is part of the transcriptional network that mediates epithelial-to-mesenchymal (EMT) transformation in glioblastoma [80] and promotes metastasis by induction of the extracellular matrix-degrading metalloproteinases, including MMP-2 and MMP-9 [81].
Conclusions
While a link between inflammation and cancer has been known for more than a century, we now start to unravel underlying mechanisms by which chronic inflammation promotes many human cancers. Compelling recent evidence suggests that Stat3, alongside with NF-κB, acts as the signaling node which provide the functional link by which aberrant activation of inflammatory cells within the tumor microenvironment triggers an epithelial survival and growth response that promotes overgrowth of neoplastic cells. The skewed anti-inflammatory gene response elicited by prolonged Stat3 activation in myeloid cells, on the other hand, curbs the immune system's anti-tumour response, while excessive Stat3 activation in inflammatory Th17 T-cells further fuels tumour growth and angiogenesis. Persistent activation of STAT3, most prominently observed in the epithelial and immune cells that constitute the tumour invasive front, often results from autocrine and paracrine production of IL6-family cytokines by the tumour and associated stroma [143]. IL6 provides an important link between obesity, aging, chronic inflammation and cancer [163], and a wealth of genetic models now permits detailed dissection of the contribution of individual signaling components within specific cell types. A comprehensive understanding of the gp130/Stat3 signaling cascade holds great promise to identify and validate therapeutic targets that simultaneously restrict the effect of tumour promoting inflammation while restoring anti-tumour immunity.
Declarations
Acknowledgements
The authors would like to thank all members of the laboratory of M.E. for sharing unpublished data and helpful discussions. The authors wish to apologize for having been unable to cite all relevant contribution made to the subject matter of this review.
T.P. is supported by Cure Cancer Australia and Cancer Australia, and M.E. is a Fellow of the National Health and Medical Research Council (NHMRC) Australia. This work was supported in part by research grants from the NHMRC.
Authors' Affiliations
(1)
Ludwig Institute for Cancer Research, Royal Melbourne Hospital, Australia
Copyright
© Jarnicki et al; licensee BioMed Central Ltd. 2010
This article is published under license to BioMed Central Ltd. This is an Open Access article distributed under the terms of the Creative Commons Attribution License (http://creativecommons.org/licenses/by/2.0), which permits unrestricted use, distribution, and reproduction in any medium, provided the original work is properly cited.