Curcumin and tumor immune-editing: resurrecting the immune system
Received: 1 July 2015
Accepted: 21 September 2015
Published: 12 October 2015
Abstract
Curcumin has long been known to posses medicinal properties and recent scientific studies have shown its efficacy in treating cancer. Curcumin is now considered to be a promising anti-cancer agent and studies continue on its molecular mechanism of action. Curcumin has been shown to act in a multi-faceted manner by targeting the classical hallmarks of cancer like sustained proliferation, evasion of apoptosis, sustained angiogenesis, insensitivity to growth inhibitors, tissue invasion and metastasis etc. However, one of the emerging hallmarks of cancer is the avoidance of immune system by tumors. Growing tumors adopt several strategies to escape immune surveillance and successfully develop in the body. In this review we highlight the recent studies that show that curcumin also targets this process and helps restore the immune activity against cancer. Curcumin mediates several processes like restoration of CD4+/CD8+ T cell populations, reversal of type-2 cytokine bias, reduction of Treg cell population and suppression of T cell apoptosis; all these help to resurrect tumor immune surveillance that leads to tumor regression. Thus interaction of curcumin with the immune system is also an important feature of its multi-faceted modes of action against cancer. Finally, we also point out the drawbacks of and difficulties in curcumin administration and indicate the use of nano-formulations of curcumin for better therapeutic efficacy.
Keywords
3-EsCurcuminHallmarks of cancerNanocurcuminTumor immune-editingTumor immunesurveillance
Background
Turmeric is one of the most widely used spice ingredient, derived from Curcuma longa, of the Zingiberacea (Ginger) plant family. Some fractions of turmeric, collectively known as curcuminoids (curcumin, demethoxycurcumin and bisdemethoxycurcumin) are considered to be the active compounds. Curcumin or diferuloylmethane, having molecular weight 368.38, is primary active polyphenolic compounds studied in a host of areas. It is an orange-yellow, crystalline powder and insoluble in water; however, it is highly soluble in ethanol and DMSO [1]. It is used as a spice to give the specific flavor and yellow color to curry. Curcumin has been used extensively in Ayurvedic medicine for centuries in India and South Asia, as it is nontoxic and has several beneficial properties like anti-oxidant, analgesic, anti-inflammatory and antiseptic activity. Curcumin has been used as a traditional medicine to treat a spectrum of diseases like rheumatism, body ache, skin diseases, intestinal worms, diarrhea, intermittent fevers, hepatic disorders, biliousness, inflammations, constipation, leukoderma, amenorrhea, arthritis, colitis and hepatitis [2–5]. More recently curcumin has been found to have anti-cancer properties that affect a variety of biological pathways involved in mutagenesis, oncogene expression, cell cycle regulation, apoptosis, angiogenesis and metastasis [3–5]. Several studies were conducted to explore the anti-cancer properties of curcumin and it was shown that curcumin modulates multiple cell signaling pathways which include cell proliferation (Cyclin D1, c-MYC), cell survival (BCL-2, BCL-XL, FLIP, XIAP, C-IAP1), apoptosis or cell death (Caspase-8, 3, 9), as well as controls tumor suppressor pathway (p53, p21) death receptor pathway (DR4, DR5), mitochondrial pathways, and protein kinase pathway (MAPK, JNK, AKT, and AMPK), thereby affecting tumor cell growth [4, 6–8].
Curcumin against the hallmarks of cancer
Recently it was suggested that tumors share several common traits (hallmarks) during malignancy that govern the transformation of normal cells to cancer cells. In 2000 Hanahan and Weinberg first proposed that six biological properties of cancer cells comprise the hallmarks of cancer that are required for the multistep development of human cancer. Interestingly, curcumin can inhibit all the six major capabilities of cancer cells and restricts tumor outgrowth in the host [9].
Avoidance of immune system: an emerging hallmark of cancer
In order to restrict potential tumor outgrowth the vertebrates possess distinct and special class of cells that can recognize and elicit specific immune response to eradicate neoplastic cells from the host body. The tumor cells are smart enough and exploit several strategies to escape immune surveillance and thwart the immune system to grow continuously and establish tumor immune evasion. The tumor-associated antigens (TAA) are not specifically neo-antigens that are exclusively expressed in tumor cells; rather they are tissue differentiation antigens also expressed in certain normal healthy cells. The nonspecific tumor antigens do not elicit proper immune responses and they are also concealed within the stroma. The innate immunity which mainly consists of antigen presenting cells (dendritic cells, macrophages) and natural killer cells (NK and NKT cells) become tolerogenic and are depleted due to apoptosis at the advanced stages of cancer. The adaptive immune response which mainly comprises of T cells (CTLs and Th1 cells), undergo apoptosis and the presence of immunosuppressive cytokines renders them unresponsive to interactions with antigen presenting cells [31, 32]. This creates an environment that is suitable for tumor outgrowth [33, 34]. In addition, release of several immunosuppressive factors induces generation of T-regulatory cell, tolerogenic macrophages and dendritic cells that accelerate the tumor immune evasion process rapidly. The immune-surveillance strategy becomes paralyzed and subsequently helps in the unrestricted growth of tumor cells [35].
In the last decades, research has also progressed about using curcumin not only as a therapeutic agent that targets several signalling-pathways in cancer but also as an immune modulator that boosts the immune system so that destruction and elimination of cancer cells from the host occurs at an early stage thereby preventing its disastrous outgrowth. In this review, we will discuss the immune editing process that is involved in tumor immune evasion and the role of curcumin to re-establish tumor immune surveillance from tumor immune escape.
Curcumin nano formulation: future perspectives
Although curcumin acts as a potent immune-modulator, but poor water solubility, low bioavailability, lack of dose–response proportionality, uncontrolled precipitation, use of excessive co-solvents, necessity of extreme condition to solubilize (basic or acidic) and incompatibility to the patients are some of the major hurdles that hampers its efficacy as a chemotherapeutic drug against cancer [104, 105]. To overcome such inconveniences nanotechnology-based drug delivery systems have proven to be most reliable and promising approach. Nanotechnology-based drug delivery systems improve poor bioavailability, enhance biological activities and also selectively target cancer cells. To enhance systematic bioavailability of higher molecular weight drugs, it is now possible to deliver the active pharmaceutical ingredient as reduced nano-sized particles, ranging in size from 10 to 1000 nm. The nanotechnology-based drug delivery system has been proven as a most effective method to successfully deliver insoluble drugs with enhanced bioavailability [106]. The reduction of particle size of active ingredients significantly enhances the dissolution rate resulting in higher bioavailability. Several forms of nanoparticles are being developed for successful encapsulation of curcumin. These include liposomes, nanoparticles, micelles, nanogels, nanoemulsions, nanocrystal suspensions, phytosome complexes, inclusion complexes and dendrimer/dimers [107]. Recently, instead of carrier-based nano formulations, pure curcumin nanoparticles have been developed that are 50 times more effective than normal curcumin, with increased bioavailability. These curcumin nanoparticles restrict tumor-induced Treg cells by inhibiting several Treg markers and restore immune surveillance in tumor-bearing mice [86].
Although, nanotechnology based drug delivery system has been proven as a major effective and promising approach towards successful cancer therapy but there are also certain limitations. Difficulties such as possibility of drug targeting, drug-loading capacity, in vivo fate of the carrier-molecule conjugates (interactions with the biological microenvironment, rate of disintegration and accumulation in organs), toxic effects of the carrier molecule or its metabolites, its large scale production, stability during long-term storage and overall production costs are difficult to deal with. Especially, the toxic effects of the nano-formulations in the body are a critical parameter. Although the carrier materials are tested for toxicity and biocompatibility, however the properties of the nano particles often differ from bulk material. Hence rigorous and specialised tests for determining the toxicities of the carrier molecules, its metabolites and surfactants are necessary before approval for use [
104
] (Fig.
4
).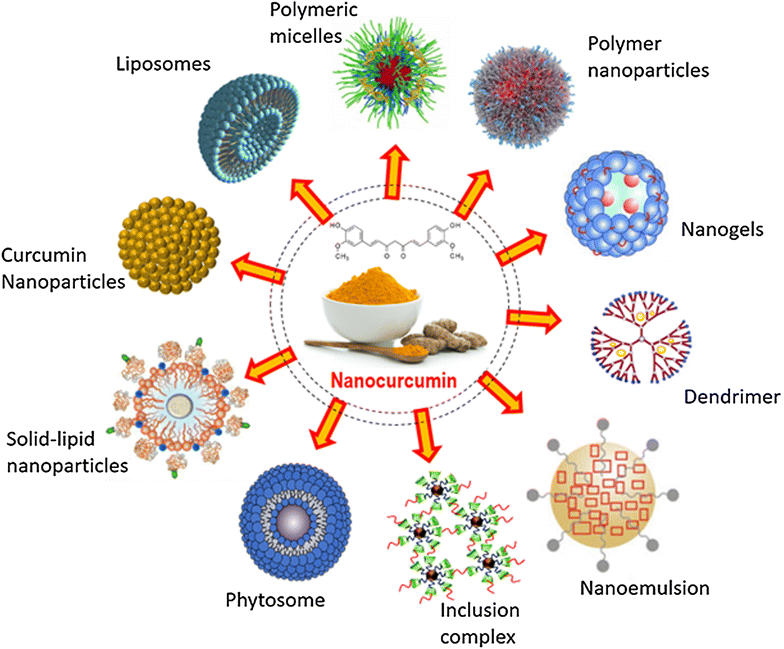 Conclusion
Curcumin is thus found to be an extremely promising anti-cancer agent, targeting various pathways associated with cancer progression. Studies continue to reveal new sides of its mode of action and its interaction with the immune system is emerging as an important contributor to its anti-cancer properties. The need for tumor cells to avoid the immune system during successful tumor progression in the body is now considered to be a new hallmark of cancer. Various studies in the past decade have gradually established curcumin as a potent immune-modulator. Although some reports have suggested a general immunosuppressive role of curcumin and its ability to reduce cell proliferation in immune cell in isolation; specific reports suggest that curcumin boosts anti-tumor immunity through various mechanisms, as discussed in this review. Thus modulation of the immune system seems to be another important strategy by which curcumin counteracts cancer development. This further asserts its effectiveness as an anti-cancer agent and points out the need to develop it as an adjuvant chemotherapeutic agent. This necessitates the development of nano-based strategies for proper delivery and increased bioavailability of curcumin, which may finally lead to its use as a proper chemotherapeutic agent.
Abbreviations
BCL2:

B-cell lymphoma 2
CDK:

cyclin dependent kinase
DMSO:

dimethyl sulfoxide
EGFR:

epidermal growth factor receptor
FLIP:

FLICE inhibitory protein
FOXP3:

Forkhead Box P3
IκB:

inhibitor of κB
IKK:

inhibitor of κB kinase
iNOS:

inducible nitric oxide synthase
JAK:

Janus kinase
JNK:

cJUN N-terminal kinase
MAPK:

mitogen-activated protein kinase
mTOR:

mammalian target of rapamycin
NF-κB:

nuclear factor κB
PI3K:

phosphatidylinositol-3-kinase
PKC:

protein kinase C
PRB:

retinoblastoma protein
PUMA:

P53 upregulated modulator of apoptosis
STAT:

signal transducer and activator of transcription
Th1:

T-helper1
Th2:

T-helper 2
Treg:

T regulatory cells
VEGF:

vascular endothelial growth factor
XIAP:

X-linked inhibitor of apoptosis
Declarations
Authors' contributions
SB undertook the background literature study and prepared the initial draft of the review; AKP prepared some of the figures and helped in editing and extending the initial draft; SM prepared figure no 3 and made language and other technical corrections to the draft; GS supervised the entire project and made final corrections to the draft. All authors read and approved the final manuscript.
Acknowledgements
This work was supported by research grants from Department of Science and Technology, Govt. of India.
Compliance with ethical guidelines
Competing interests The authors declare that they have no competing interests.
Open AccessThis article is distributed under the terms of the Creative Commons Attribution 4.0 International License (http://creativecommons.org/licenses/by/4.0/), which permits unrestricted use, distribution, and reproduction in any medium, provided you give appropriate credit to the original author(s) and the source, provide a link to the Creative Commons license, and indicate if changes were made. The Creative Commons Public Domain Dedication waiver (http://creativecommons.org/publicdomain/zero/1.0/) applies to the data made available in this article, unless otherwise stated.
Authors' Affiliations
(1)
Division of Molecular Medicine, Bose Institute, Kolkata, India