Erratum to: The loop-less tmCdc34 E2 mutant defective polyubiquitination in vitro and in vivo supports yeast growth in a manner dependent on Ubp14 and Cka2
Received: 12 April 2016
Accepted: 12 April 2016
Published: 6 October 2016
Erratum to: Cell Division 2011, 6:7 DOI 10.1186/1747-1028-6-7
After publication of this study [1], we found that the preparation of several figures did not follow the guidance given in the Instructions for Authors and resulted in unacknowledged modifications. This erratum acknowledges these modifications and shows that they neither affected the interpretation of the data nor the conclusions drawn from the data. The information below is supplementary in nature, as it does not alter or replace any information included in the study [1].
Supplemental figures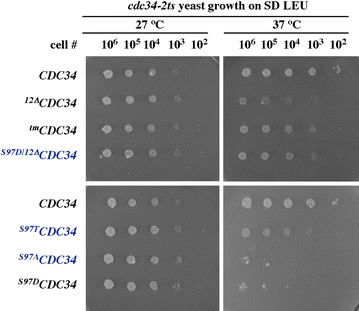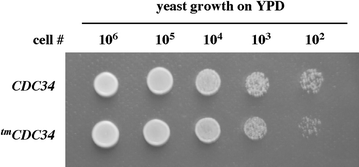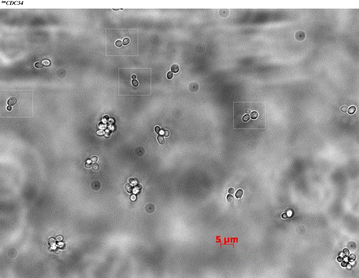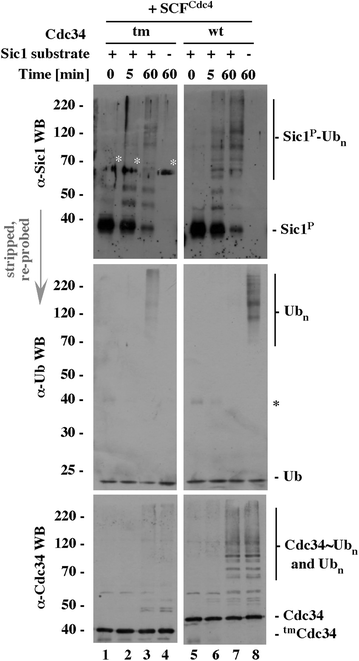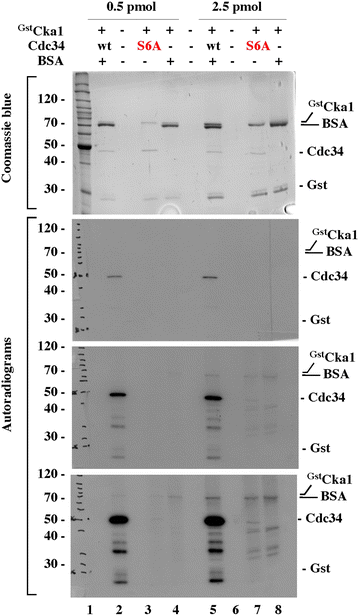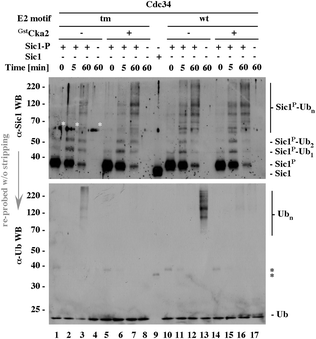 Declarations
Declarations
There is no change in authors' contributions reported in [1]. All authors read and approved the previously published manuscript and this erratum.
Current authors' information
Since publication of the original article the authors' affiliations have changed. The current affiliations are as follows: Agnieszka Lass1†, Ross Cocklin2,5†, Kenneth M Scaglione1,3, Michael Skowyra1,4, Sergey Korolev1, Mark Goebl2* and Dorota Skowyra1*
1Edward A. Doisy Department of Biochemistry and Molecular Biology, Saint Louis University School of Medicine, St. Louis, MO 63104, USA; 2Department of Biochemistry and Molecular Biology, Indiana University School of Medicine, Indianapolis, IN 46202, USA; 3Neuroscience Research Center and Department of Biochemistry, Medical College of Wisconsin, Milwaukee, WI; 4Dept. of Cell Biology and Physiology, Washington University School of Medicine; 5Department of Biology, Keene State College, Keene, NH.
Open AccessThis article is distributed under the terms of the Creative Commons Attribution 4.0 International License (http://creativecommons.org/licenses/by/4.0/), which permits unrestricted use, distribution, and reproduction in any medium, provided you give appropriate credit to the original author(s) and the source, provide a link to the Creative Commons license, and indicate if changes were made. The Creative Commons Public Domain Dedication waiver (http://creativecommons.org/publicdomain/zero/1.0/) applies to the data made available in this article, unless otherwise stated.
Authors' Affiliations
(1)
Edward A. Doisy Department of Biochemistry and Molecular Biology, Saint Louis University School of Medicine, St. Louis, USA
(2)
Department of Biochemistry and Molecular Biology, Indiana University School of Medicine, Indianapolis, USA
(3)
Dept. of Neurology, University of Michigan Medical School, Ann Arbor, USA
(4)
Dept. of Microbiology, Washington University School of Medicine, St. Louis, USA
Reference
Lass A, Cocklin R, Scaglione KM, Skowyra M, Korolev S, Goebl M, Skowyra D. The loop-less tmCdc34 E2 mutant defective polyubiquitination in vitro and in vivo supports yeast growth in a manner dependent on Ubp14 and Cka2. Cell Div. 2011;6:7.View ArticlePubMedPubMed CentralGoogle Scholar